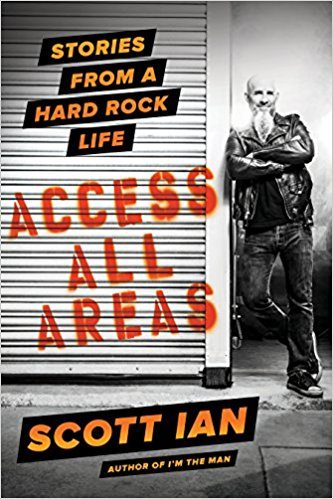 Scott Ian, founding member of the band Anthrax, appears at Book Soup on Friday, December 15, 2017 at 7:00 PM to present and sign his new book: Access All Areas: Stories from a Hard Rock Life. 

Scott Ian, rhythm guitarist and co-founder of Anthrax and author of I'm the Man, collects all of his craziest hard rock stories into one balls-to-the-wall volume. Access All Areas has tales of humor, excess, fun, debauchery, food, booze, and mayhem from Scott's many years on the road as well as his encounters with celebrities like Dimebag Darrell, Trent Reznor/NIN, Madonna, Lemmy Kilmister, John Carpenter, Robert Trujillo (Metallica), Slayer, David Lee Roth, and many more.
In recent years, Scott Ian's "Speaking Words" club tours have drawn a devoted crowd of metal fans who love a good rock story. Ian has perfected his delivery, comic timing, and ability to highlight where the ridiculous meets the sublime. Best of all, Ian seems to lack the ability to be embarrassed, rendering Access All Areas howlingly funny, self-deprecating, and every bit as brash and brazen as one would expect from one of the original architects of speed metal.
Event Guidelines:
A copy of Access All Areas from Book Soup is required to attend this event. Save your receipt as it will be checked in line.
We open at 9am. Please do not line up before then. Please be respectful of neighboring businesses. The first 60 people in line (with Access All Areas purchased from Book Soup) will be admitted into the store for the talk. An overflow line will be held outside if needed.
Personalizations are possible for people who attend the event in person.
No Memorabilia.
More guidelines to come.
Book Soup
8818 Sunset Blvd, W. Hollywood, CA 90069
310.659.3110