Event Details: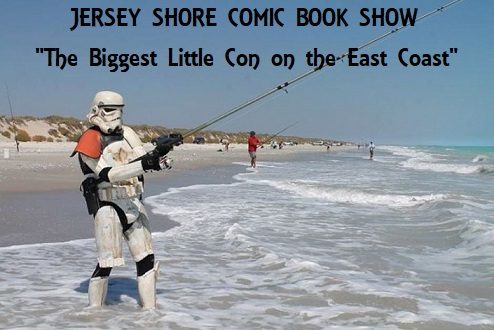 Convention Name
Jersey Shore Comic Book Show
Convention Website Address
http://www.jerseyshorecomicbookshow.com
This convention will take place:
Date (Format mm/dd/yyyy)
11/26/2017
About This Convention
Come out and join us for our Christmas Extravaganza as we return to the Toms River Elks Lodge on 

Sunday, November 26 from 10am

 to 

4pm.


We will have more than 20 + artists, writers and creators of comics and independent works as well and they will have original artwork, prints and their books for sale.
There will be more than 50 tables of vendors offering up comics from the golden age to present, as well as, back issues, graphic novels, paperbacks, NON-sport cards, toys, action figures, figurines, DVD's, records, anime, gaming items and collectibles. There will be various crafters there as well offering up some great comic themed crafts such as pillows, pillow covers, dog collars, dog leashes, jewelry, purses, totes, Christmas stockings and lots of other cool things.
With Christmas just around the corner, there will be plenty of great gifts for the comic geek in your family or that comic geek friend!
Also joining us will be the 501st Star Wars Legion, always a huge hit with young and old alike. The Philadelphia Avengers, Carter cosplay, will also be joining us. And of course the most FAMOUS person of all……..SANTA!!! Whole Cloth green screen photo booth will also be on hand for some cool picture taking.
THIS SHOW ONLY, Admission will be $3.00 Kids 12 and under are Free.
The United States Marine Corps will be joining us again this year with their Toys-4-Tots drive and anyone bringing a new toy for the drive will receive $1.00 off admission.
Face Painting! Kid Friendly! Family Fun! Surprise instant winner envelopes! $how Ca$h!
Venue Name and Address
Toms River Elks Lodge
600 Washington Street
Toms River, New Jersey 08753
United States
Map It
Number of Dealer/Exhibitor Tables
75
Projected Attendance
500
Please select the Category that best describes the convention
Comic Books
Additional Categories

Anime
Gaming
Collectibles

Guests
Joe Delbeato, Danny Kelly, Theodore Riddle, Tom Scholendorn, Manda Cantillion, Mark Holmes, Mackenzie Rose Hawk, Celia Connaire, Chubby Penquin, 501st Star Wars Legion, Avengers, Carter Cosplay, SANTA..more to be added.