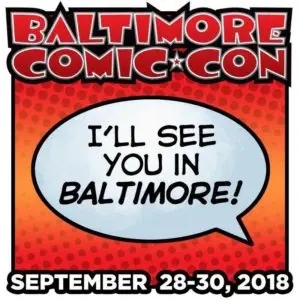 Press Release:
The Baltimore Comic-Con will return to the Baltimore Convention Center on September 28-30, 2018. We are thrilled to announce that one of our most asked-about and requested exhibitors, Certified Guaranty Company, LLC (CGC), will return again to the show to conduct on-site grading. As they did last year, CGC will be accepting submission for all tiers of service (with the exception of magazines) on a first-come, first-serve basis for the entire weekend.
"Marc Nathan and his crew at Baltimore Comic-Con create an absolutely amazing show for comic book collectors and fans," said Paul Litch, Primary Grader for CGC. "It is an absolute pleasure and honor to continue to bring onsite grading from the leading comic book certification service, CGC, to the great patrons of Baltimore Comic-Con."
"We field so many requests over the course of the year as to whether or not CGC will be back," said Marc Nathan, show promoter of the Baltimore Comic-Con. "The collectible community has come to expect their unique skill set to be present and available throughout the weekend, and we're very happy to announce their return in 2018."
This year's confirmed guests for the show include:
Joel Adams (Bucky O'Hare Graphic Novel Coloring Book)
Neal Adams (Deadman)
Zeea Adams (Neal Adams Monsters)
Mark Buckingham (Scooby Apocalypse)
Buzz (Superman: The Coming of the Supermen)
Frank Cho (Harley Quinn)
Steve Conley (The Middle Age)
David Finch (Trinity)
Meredith Finch (Rose)
Jenny Frison (Wonder Woman)
Barry Kitson (The Flash)
Hope Larson (Batgirl)
Terry Moore (Strangers in Paradise)
David Petersen (Mouse Guard)
Don Rosa (Uncle Scrooge)
Thom Zahler (Time & Vine)
About CGC
Founded in 2000, CGC is the first independent, impartial, third-party comic book grading service. A proven and respected commitment to integrity, accuracy, consistency and impartiality has made CGC the leader in its field. In fact, in 2007, CGC crossed the million-book mark and has now graded over 2 million comic books.
Because we value our relationship with collectors who share our passion for comics, the hobby's vibrant history and its exciting future, we offer membership in the CGC Collectors Society. Paid membership starts at $39 per year, and includes direct submission privileges, access to expert tools and resources like the Comics Registry, and dynamic interaction with fellow collectors.
To learn more about Certified Guaranty Company and its many offerings, including magazines, lobby cards, and photos, visit www.certifiedguaranty.com.
About The Baltimore Comic-Con
The Baltimore Comic-Con celebrates its 19th year of bringing the comic book industry to the Baltimore and Washington D.C. area. For more information, please visit the website, Twitter, Instagram, and Facebook pages.