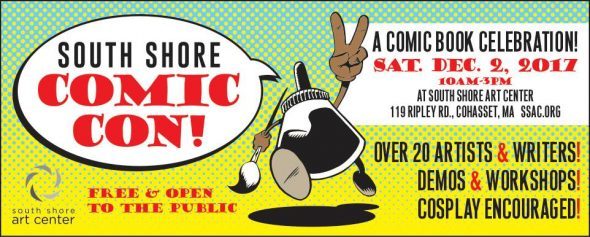 Press Release:
South Shore Art Center presents its second South Shore Comic Con! Featuring over 25 comic artists, signing and selling their zines, original art, and talking about the craft of comic book storytelling. Panels and workshops will be in the art studios throughout the day. Costumes encouraged!
Artists include: E. J. Barnes, Beth Barnett, LB Cassell, Jimmy Curtis, Griffin Ess, Mike Doherty, Krystal Dube, Jerel Dye, Barrington Edwards/Studio Vexer, Raul Gonzalez, Brian Hall, Ludgy Jean-Baptiste, Richard Keenan, Daniel Kern, Cathy Leamy, Jesse Lonergan, Kyri Lorenz, Cagen Luse, Donna Martinez, Tony McMillen, James Mobius, Dave Ortega, Joey Peters, Ryan Sullivan, Crispin Wood
Open to the public, suggested donation of $5.
South Shore Art Center
119 Ripley Rd, Cohasset, Massachusetts 02025
(781) 383-2787