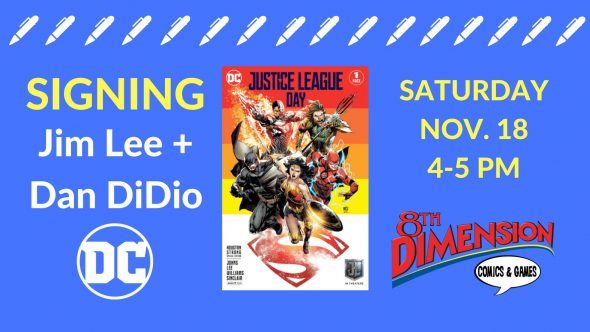 DC Comics Publishers Dan DiDio and Jim Lee appear at 8th Dimension Comics on Saturday, November 18, 2017 at 4:00 PM to celebrate Justice League Day the #HoustonStrong way!
To accommodate as many fans as possible, the signing is limited to a maximum of 2 items* per person. A limited number of free Justice League Day comics with a special Houston Strong variant cover also will be given away, all signed by Dan DiDio, Jim Lee, and Geoff Johns. Limit 1 per person.
*If demand is overwhelming, we reserve the right to limit this to 1 item signed per person to give more fans the opportunity to meet our guests and get an item signed.
8th Dimension Comics and Games
15210 West Road, Houston, TX 77095
(281) 856-6506