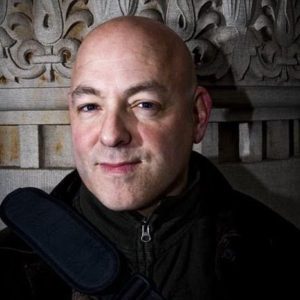 **PLEASE NOTE THIS EVENT HAS BEEN CANCELED**
Writer Brian Michael Bendis appears at MIT to present the 2017 Julius Schwartz Lecture on Thursday, November 9, 2017 at 5:30 PM. Admission is Free and open to the public.
Press Release:
MIT Comparative Media Studies/Writing is thrilled to welcome award-winning comics creator Brian Michael Bendis, a New York Times bestseller and one of the most successful writers working in mainstream comics, for the 2017 Julius Schwartz lecture.
For the last eighteen years, Brian's books have consistently sat on the top of the nationwide comic and graphic novel sales charts. He is the co-creator and consulting producer of the Peabody Award-winning Jessica Jones on Netflix from Marvel TV. For Marvel entertainment, Bendis is currently the monthly writer of the bestselling Defenders, Jessica Jones, Iron Man, Spider-Man, and Guardians of the Galaxy series.
The introduction of the multiracial Spider-Man, Miles Morales, made the front page of USA Today and went on to become an international hotbed political topic featured on Fox News, CNN, The Daily Show, Conan O'Brien, Howard Stern and many others.
The news of a new 'Iron Man' character in the form of 15-year-old Riri Williams made massive international headlines when the story broke in Time magazine. Her solo debut as Invincible Iron Man debuted in the top five nationwide.
Before that, Brian completed a 100 issue run on the X-Men franchise with the debut of ALL-NEW X-MEN and UNCANNY X-MEN and 9 years helming Marvel's popular AVENGERS franchise by writing every issue of the NEW AVENGERS plus debuting the hit books AVENGERS, MIGHTY AVENGERS and DARK AVENGERS along with the wildly successful 'event' projects AVENGERS VERSUS X-MEN, HOUSE OF M, SECRET WAR, SPIDER-MEN, SECRET INVASION, AGE OF ULTRON, SIEGE and CIVIL WAR 2.