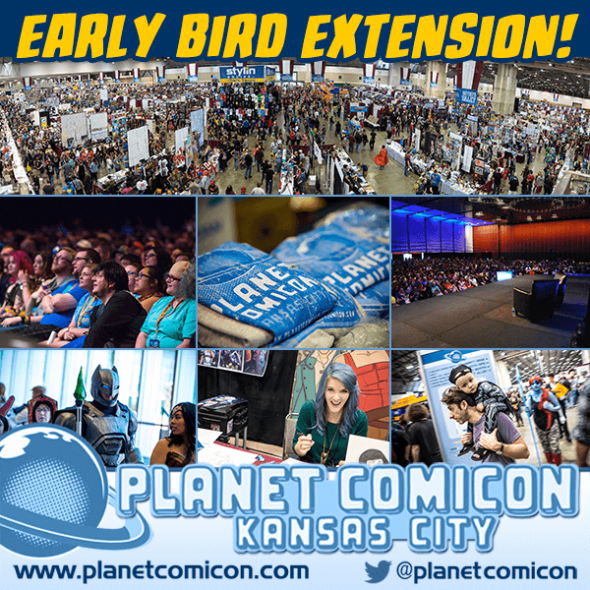 Press Release:
Early bird pricing EXTENDED for Planet Comicon Kansas City! Purchase NOW for the best price of the year!
This year, Planet Comicon Kansas City promises to deliver an incredible list of comic creators, special guests, and an entire universe of cosplay, collectibles, and interactive fun…not to mention a full slate of panels and demos for adoring aficionados, aspiring artists, and curious collectors of all ages. Planet Comicon Kansas City has grown to be one of the top 25 pop culture and comic book events in the country by attendance and you do not want to miss one minute.
ACT NOW to take advantage of early bird pricing for a 20% discount on Friday and Sunday single day, adult and youth admissions.
Deadline for purchase at this special pricing has been EXTENDED to November 20, 2017. You will not see a better deal. And don't forget that Planet Comicon Kansas City is your best value for the entire family – children 7 years old and under are free!

Special guests! Comic creators! The excitement is building!
We're thrilled to announce the addition of celebrated comic creators Megan Levens (Buffy The Vampire Slayer, Star Trek, Spell on Wheels), Jai Nitz (Co-Creator Suicide Squad's El Diablo, Co-Creator Dream Thief), Geof Darrow (Shaolin Cowboy, The Big Guy and Rusty the Robot Boy, Hard Boiled), and Kyle Strahm (Spread, Downfall, Octane Bloodstain). They will be joining an ever-growing list of celebrities, fellow comic creators, and cosplayers coming to Planet Comicon Kansas City in 2018!
Currently scheduled to appear include:
Jason Aaron Scalped, Star Wars, Southern Bastards, Thor
CW Cooke Solitary, Stillwater
Abby Darkstar Cosplayer & Gamer
Amy "Lita" Dumas WWE Hall of Fame
Chad Hardin Harley Quinn, Temerity
Ryan Hurst Sons of Anarchy, Outsiders, Bates Motel
Amy Jo Johnson Power Rangers, Felicity
Jae Lee Inhumans, Dark Tower, Batman/Superman
Charles Martinet Voice of Mario and Luigi
B. Clay Moore Hawaiian Dick, the Whistling Skull, Savage, Endless Summer
Michael Rooker The Walking Dead, Guardians of the Galaxy
Sean Schemmel Dragon Ball Z
Mark Sheppard Supernatural, Battlestar Galactica, Warehouse 13, Firefly
Sting WWE Hall of Fame
Trish Stratus WWE Hall of Fame
Freddie E. Williams II Batman/Teenage Mutant Ninja Turtles, He-Man/Thundercats Series
Many more creator and celebrity guests will be attending the show. Follow us on Facebook and Twitter or stay tuned to our website each week for more guest announcements.