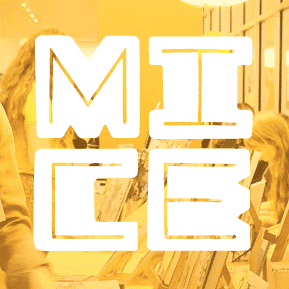 Press Release:
MICE will feature two full days of comics programming with workshops and demonstrations by professional artists, along with panel discussions on topics central to comics. All of our panels and workshops are appropriate for all-ages, but look for the Kid-Friendly tag for activities geared toward families and young readers. MICE is free and open to the public.
Saturday, October 21st
Panel to Panel 
11:00 AM – 12:00PM | Saturday, October 21, 2017 | Lesley Room
A picture can say a thousand words, but two pictures can say even more! Cartoonist Braden Lamb (Adventure Time Comics) leads experiments in putting different random pictures together to come up with all new stories and ideas. Then create your own comic that's more than the sum of its pieces!
Instructor: Braden Lamb
Character Evolution
11:30 AM – 12:30PM | Saturday, October 21, 2017 | Eliot Room
Discover the secrets of character design through a fun exercise led by cartoonist and animator Bob Flynn. Create your own creature that starts simple, then levels up into an awesome monster!
Instructor: Bob Flynn
Comic Storytelling and Pacing
12:30 PM – 1:30 PM | Saturday, October 21, 2017 | Lesley Room
The art of comics is not just about writing or drawing, it's how the pictures go together to tell your story. Explore different visual storytelling methods with comic creator Dirk I. Tiede. Exercises in outlining and thumbnailing will help you establish a sense of time, mood, and pacing between panels, across a page, and throughout an entire book.
Instructor: Dirk I. Tiede
Iron Cartoonist
12:30 PM – 1:30 PM | Saturday, October 21, 2017 | Amphitheater
MICE pits top cartoonists against each other in a live drawing event. Utilizing themed "ingredients," three artists will compete for the title of ultimate cartoonist and earn prizes for audience members!
Host: Zack Giallongo; Contestants: Luke J. Howard, Luke B. Howard, Abby Howard Judges: Christina Kelly, Mark Siegel, Zach Clemente
Fuzzy, Funny, Fierce! Drawing Animals
1:00 PM – 2:00 PM | Saturday, October 21, 2017 | Eliot Room
Do you love comics starring animals? Do you want to draw your own? We'll talk about our favorite animals, how to draw them, and how to tell their stories in our comics. Art supplies will be provided, so be ready to DRAW!
Instructor: Zoe Piel
Writing for Comics Workshop
2:00 PM – 3:00 PM | Saturday, October 21, 2017 | Lesley Room
Explore the dual languages of comics and discuss the parameters of the form with cartoonist Josh Neufeld of the Solstice MFA Program's Graphic Narratives Concentration. Then jump into the comics-writing process: visual thinking, encapsulation, and scripting. We'll end on a short exercise that will leave you excited about writing your next comic! Sponsored by PINE MANOR COLLEGE, Solstice Low-Residency MFA in Creative Writing Program
Instructor: Josh Neufeld 
Comics and Islam
2:00 PM – 3:00 PM | Saturday, October 21, 2017
Muslim identity and practices are featured more comics than ever, from mainstream titles like Ms. Marvel to independent graphic memoirs. This panel takes stock of this important growing field — including the brand-new book Muslim Superheroes: Comics, Islam, and Representation — and presents the perspectives of both academics and creators.
Moderator: Hilary Chute; Panelists: Hussein Rashid, A. David Lewis, Sara Alfageeh 
Cartooning Adventure
2:30 PM – 3:30 PM | Saturday, October 21, 2017 | Lunder Arts Center
Join Amulet series creator and celebrated graphic novelist Kazu Kibuishi in this interactive workshop. Be ready to draw and learn how to start your own quest in comics! Admission to this workshop is free but there is limited seating available. It will be held at the Lunder Arts Center (1801 Mass. Ave., Cambridge, MA) next door to the main MICE venue.
Kazu Kibuishi is the creator of Amulet, an exciting fantasy adventure series of graphic novels from Scholastic. Kazu's earlier work includes his webcomic Copper and his debut graphic novel, Daisy Kutter: The Last Train, which won the YALSA Best Books for Young Adults Award. As the editor and a contributor to the Flight and Explorer anthologies he fostered a showcase for innovative creators working in all-ages fantasy, adventure, and sci-fi comics. Kazu lives in Washington state with his wife and two children.
Comic Life Drawing
3:30 PM – 4:30 PM | Saturday, October 21, 2017 | Lesley Room
This introduction to figure drawing gives cartoonists of all skill levels an opportunity to draw from a live model! Explore the basics of dynamic movement, weight, and human anatomy. Easels, paper, and conte crayons will be supplied.
Instructor: Cara Bean
Inspiration and Influence
3:30 PM – 4:30 PM | Saturday, October 21, 2017 | Amphitheater
All artists are affected by the work of others, whether it be giants of the past or contemporaries. Four exciting comics creators reveal the artists who have informed their storytelling and graphic styles. Stylistic chameleon R. Sikoryak leads the discussion on the nature of artistic influence.
Moderator: R. Sikoryak; Panelists: Ethan Rilly, Michael DeForge, Katie Skelly, KL Ricks
Worldbuilding in Comics
5:00 PM – 6:00 PM | Saturday, October 21, 2017
Inhabiting an imaginary universe is one of the great pleasures of comics, for creators and readers alike. In this panel, four adept world-builders discuss the development and design of their fictional universes, and how they use the medium to reveal and explore them in a narrative context.
Moderator: Evan Dahm; Panelists: Isabel Greenberg, Mark Siegel, Anne Szabla
Sunday October 22nd
Making Mini-comics: The One Sheet Wonder
11:30 AM – 12:30 PM | Sunday, October 22, 2017 | Lesley Room
Grab a single sheet of paper and be ready to draw your next comic! Cartoonist Laura Terry (Graveyard Shakes) shows you how to make make the simplest of mini-comics from start to finish.
Instructor: Laura Terry
Queer Fantastic
11:30 AM – 12:30 PM | Sunday, October 22, 2017 | Amphitheater
How do LGBTQ themes, character and creators blend with worlds of fantasy, science fiction and the supernatural? What happens when queer stories take place in imaginary or science fiction realms? A panel of creators discuss their work at this juncture of genre and identity.
Moderator: Melanie Gillman; Panelists: Mildred Louis, Blue Delliquanti, Ashanti Fortson, Olivia Li
Interactive Comics
12:00 PM – 1:00 PM | Sunday, October 22, 2017 | Eliot Room
Go behind the scenes with Jason Shiga (Demon, Meanwhile) and his 20 year career making choose-your-own-adventure style comics. Jason shares his one of a kind experiments and methods so you can learn the secrets of creating your own interactive comics!
Jason Shiga is an innovative cartoonist from Oakland, CA whose graphic novel Meanwhile (Amulet Books, 2010) broke new ground in comic storytelling with a "pick any path" format. His most ambitious project is his webcomic Demon, a dark comedy about an immortal man's misadventures in finding a way to die. The four-volume series – an L.A. Times Book Prize finalist, an NPR Best Book of the Year, and Eisner Award winner – is now published by First Second Books.
Drawing from Imagination
1:00 PM – 2:00 PM | Sunday, October 22, 2017 | Lesley Room
Images can be more powerful and blend better with words in comics when they come from your mind's eye. Kurt Ankeny will guide you through techniques to exercise your visual memory and hone your ability to distill the essential image of an object from observations or photographs.
Instructor: Kurt Ankeny
Making Comics (When Everything Sucks)
1:00 PM – 2:00 PM | Sunday, October 22, 2017 | Amphitheater
Combining the personal and political in a timely manner, this panel will discuss the challenges and rewards of creating comic art during difficult times. Like everyone, cartoonists grapple with issues of emotional, mental, and physical well-being, which many of us are finding exacerbating by the political environment. How do comics artists remain creative, finding and making meaning through their work while struggling to pay the rent, get through the next petition or Facebook rant while still take caring of ourselves?
Moderator: Heide Solbrig; Panelists: R. Sikoryak, Liz Prince, Luke J. Howard, Whit Taylor
Non-fiction Visual Storytelling Techniques
1:30 PM – 2:30 PM | Sunday, October 22, 2017 | Eliot Room
Discover what make memoir and nonfiction comics tick with cartoonist Sophie Yanow. Explore long-form and short-form autobiographical comics, and then try out exercises and techniques to help you kick-start a daily diary comics practice.
Instructor: Sophie Yanow
Inking Techniques Workshop
2:30 PM – 3:30 PM | Sunday, October 22, 2017 | Lesley Room
Markers, brushes, crow quill pens… There are many different inking tools you can use in comics, and each can inform the mood and feel of your drawings. Now you can test them out for yourself! Comic artists Clay McCormack and Jesse Lonergan lead demonstrations and exercises to familiarize you with some of the tools used by professionals.
Instructors: Clay McCormack, Jesse Lonergan
Comics & Migration: Moving Visual Language Into America
2:30 PM – 3:30 PM | Sunday, October 22, 2017
Comics represent a unique format for capturing a cartoonist's life, history, family, and memory in a way that visually recalls cultures, customs, and traditions that are new to a wide swath of readers. In this panel, we will explore the benefits of using the universal language of comics to demonstrate cultural identity to readers in order to open them up to the world and experiences of the cartoonist.
Moderator: Jason Rodriguez; Panelists: Julia Alekseyeva, Dave Ortega, Iasmin Omar Ata, Leila Abdelrazaq
Fold Up Comics
3:00 PM – 4:00 PM | Sunday, October 22, 2017 | Eliot Room
There is a wide variety of folding and book construction techniques that can help create a truly unique reading experience. Cartoonist Jerel Dye (Pigs Might Fly) will introduce you to accordion book design to make your next comic something that everyone will want to open up!
Instructor: Jerel Dye
Comics and Poetry
3:45 PM – 4:45 PM | Sunday, October 22, 2017
There is an ongoing relationship and cross-pollination between comics and poetry. Comics creators, poets and critics will explore the formal elements and energies that link the two art forms, as well as discuss recent experiments in poetry comics.
Moderator: Hilary Chute; Panelists: Steph Burt, Madeleine Witt, Franklin Einspruch, Christopher Spaide
MICE (Massachusetts Independent Comics Expo) will be held at Lesley University's University Hall at 1815 Massachusetts Avenue in Porter Square. The hours of the show are Saturday, October 21st, 10:00 AM – 6:00 PM, and Sunday, October 22nd, 11:00 AM – 5:00 PM. Admission is free. Further information available on the website: www.micexpo.org