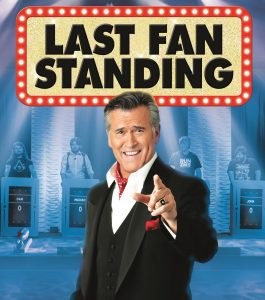 Book Soup and Spaceland are proud to present actor, director, writer, and producer Bruce Campbell at the Regent Theater on Wednesday Oct 25, 2017 at 7:00 PM as he presents his new book Hail to the Chin and hosts Last Fan Standing, a live game show! Tickets available at the link…
Last Fan Standing is a no-holds-barred live game show, and YOU get to participate! Test your ultimate nerd knowledge as the legendary Bruce Campbell hosts. The top four contenders will face off on stage…will you be one of them? For more information on the show, see the Last Fan Standing website. Every ticket includes admission to Last Fan Standing and comes with a copy of Bruce Campbell's book HAIL TO THE CHIN. VIP tickets also include an exclusive Meet & Greet with Bruce Campbell.
ABOUT THE BOOK :
Hail to the Chin is the new raucous and sardonic memoir from Bruce Campbell, a follow-up to the New York Times bestselling If Chins Could Kill. It's been 15 years since his first memoir but Bruce is still living the dream as a "B" movie king in an "A" movie world.
Bruce Campbell makes his triumphant return from where he left off in If Chins Could Kill with further hilarious, gut-wrenchingly honest confessions.
Bruce brings us through his life in the decade since his first memoir and his roles as varied as they are numerous- from his roles in the Spider-Man movies to his self-referential My Name is Bruce to his role on #1 show Burn Notice and his new STARZ hit series Ash vs Evil Dead.
Over the last 15 years, Bruce has become a regular on the Wizard World convention circuit, has created his @GroovyBruce twitter account with over 400,000 followers and a Facebook page with almost 250,000 likes. His profile and reach is lightyears beyond where it was for Chins.
Hail to the Chin will be bursting with pictures and the signature humor that Bruce brought to If Chins Could Kill and will be devoured by his legions of fans across the country.
ABOUT THE AUTHOR:
In 1979 with Sam Raimi and Rob Tapert, Campbell filmed the Evil Dead, in which he starred and co-executive produced. Stephen King dubbed it "the most ferociously original horror film of the year." Bruce has written back-to-back New York Times bestsellers, appeared in all three Sam Raimi's Spider-Man movies, and in 2013, he completed a seven-year run on Burn Notice, USA's #1 show on cable. In a return to his B-movie roots, he completed the second season of the Ash Vs. Evil Dead TV series on Starz in 2016.
The Regent Theater
448 S. Main St. Los Angeles, CA 90013