Press Release: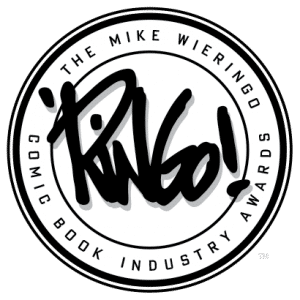 The 2017 Mike Wieringo Comic Book Industry Awards will be presented on the evening of Saturday, September 23, 2017 as part of the fan- and pro-favorite convention, The Baltimore Comic-Con. This unique evening offers the opportunity to socialize, dine, and network with comic industry professionals, and watch as they celebrate recognition of their peers, coworkers, and competitors. A limited number of tickets are now available for purchase by the public.
Ringo Awards tickets include a full cocktail hour (cash bar), a full service dinner (featuring a Baltimore crab cake), the awards ceremony, and a gift bag, and are now available for $125. Please visit our website to purchase with credit card: baltimorecomiccon.com/tickets
Start your evening at our cocktail hour, meeting industry professionals and other fans, and enjoy our keynote speaker, David Petersen, best known as the multiple award-winning creator of Mouse Guard.
Presenters at the inaugural Ringo Awards include Darryl "DMC" McDaniels and Amy Chu, Walter and Louise Simonson, Terry and Robyn Moore, Kazu Kibuishi and Charlie Kochman, and Todd Dezago, Mark Waid, and Matt Wieringo.
Additionally, our friends at the Hero Initiative will be presenting their 2017 Hero Lifetime Achievement Award to Marv Wolfman, and their Giordano Humanitarian Award to Joshua Dysart.
We are also thrilled to present a fantastic gift bag to our first 300 attendees purchasing tickets for this comic event of the fall. This year's gift bag is an amazing collection of books, including such treasures as March Trilogy Slipcase Set from IDW, Brom Sketchbook from Flesk Publications, and the brand-new Graveyard Shakes from Scholastic. In addition to these wonderful books, expect contributions from other publishers as well, including Abrams ComicArts, AfterShock Comics, Archie Comic Publications, BOOM! Studios, Dark Horse Comics, DC Comics, Dynamite Entertainment, IDW Publishing, Source Point Press, and Valiant Entertainment.
The Ringo Awards would like to recognize and thank our 2017 sponsors: AfterShock Comics, Baltimore Comic-Con, BOOM! Studios, Cards, Comics & Collectibles, Dynamite Entertainment, Painted Visions, South Carolina Comic-Con, and Valiant Entertainment.
About Mike Wieringo:
Michael Lance "Mike" Wieringo was known to fans and friends as "Ringo", which is how he signed his artwork. His comics artist graced the pages of DC Comics' The Flash, Adventures of Superman, Batman, and Robin, Marvel Comics' Fantastic Four, Friendly Neighborhood Spider-Man, Sensational Spider-Man, and Rogue, and his co-creation Tellos. He passed away on August 12, 2007 at the young age of 44 from an apparent heart attack.
About the Ringo Awards:
The Mike Wieringo Comic Book Industry Awards is an annual celebration of the creativity, skill and fun of comics. The Ringo Awards recognize outstanding achievements in over 20 categories, and are the only industry awards nominated by fans and pros alike, with final voting by the comic professional community. Launched in 2017, the awards ceremony is held annually at the Baltimore Comic-Con. Further details are available at www.ringoawards.com.
About the Baltimore Comic-Con:
The Baltimore Comic-Con is celebrating its 18th year of bringing the comic book industry to the Baltimore and Washington D.C. area. For more information, please visit www.baltimorecomiccon.com