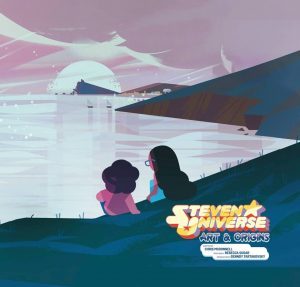 Chris McDonnell appears at Amalgam Comics on Saturday, September 23rd at 1:00 PM to discuss and sign his new book, Steven Universe: Art & Origins!
This is the first book to take fans behind the scenes of the groundbreaking and boundlessly creative Cartoon Network animated series Steven Universe.
Bursting with concept art, production samples, early sketches, storyboards, and exclusive commentary, this lavishly illustrated companion book offers a meticulous written and visual history of the show, as well as an all-access tour of the creative team's process. Steven Universe: Art & Origins reveals how creator Rebecca Sugar, the writers, the animators, and the voice actors work in tandem to bring this adventure-packed television series to life.

About the Author: Chris McDonnell has designed books on Ralph Bakshi, Bill Plympton, the Joker, Wonder Woman, and many more. He is a contributor to the Cartoon Brew animation blog. He creates animation for television programs that have included Lady Dynamite (Netflix), Tim and Eric Awesome Show, Great Job! (Adult Swim), Portlandia (IFC), Comedy Bang! Bang! (IFC), and Yo Gabba Gabba! (Nickelodeon). McDonnell is also the author and designer of Adventure Time: The Art of Ooo. He lives in Philadelphia.
Amalgam Comics & Coffeehouse, Inc.
2578 Frankford Ave, Philadelphia, PA 19125