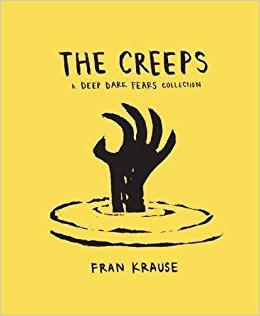 Cartoonist Fran Krause appears at Skylight Books on Saturday, September 30, 2017 at 5:00 PM to sign THE CREEPS.
A follow-up to the New York Times best-selling Deep Dark Fears: a second volume of comics based on people's quirky, spooky, hilarious, and terrifying fears.
Illustrator, animator, teacher, and comic artist Fran Krause has touched a collective nerve with his wildly popular webcomic series–and subsequent New York Times best-selling book–Deep Dark Fears. Here he brings readers more of the creepy, funny, and idiosyncratic fears they love illustrated in comic form–such as the fear that your pets will tell other animals all your embarrassing secrets, or that someone uses your house while you're not home–as well as two longer comic short-stories about ghosts.
Fran Krause is an animator and cartoonist. He is currently a teacher in the character animation program at CalArts, creator of several cartoons, and the creator of the Deep Dark Fears webcomic series and book.
Skylight Books
1818 N. Vermont Ave, Los Angeles, CA 90027
323.660.1175