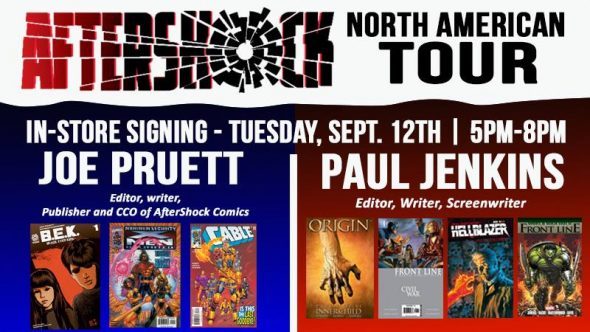 Press Release:
That's Entertainment hosts AfterShock Comics creators Joe Pruett and Paul Jenkins for an in-store signing on Tuesday, September 12th from 5:00 to 8:00 PM.
Pruett is an Eisner award-winning comic book publisher, editor, and writer; Jenkins is an widely-acclaimed writer and editor. The creative duo will be at 244 Park Ave. in Worcester, MA as part of their AfterShock Comics North American Tour, signing copies of their comic books work past and present, and promoting their upcoming titles at AfterShock. Admission and signatures are free, and all ages are welcome to attend.

"If you've read comic books in the last twenty years, it's a safe bet you've read comics by Joe Pruett and Paul Jenkins," says store manager Ken Carson. "They've scripted the adventures of characters like Batman, Hulk, Spider-Man and X-Men, among many others. They rank among the very best of comic writers, and now they're key members of the AfterShock Comics team."

Single comic book issues and collected trade paperbacks by Paul Jenkins and Joe Pruett will be available for purchase at That's Entertainment before and during the event. Please forward any questions regarding the authors to comic book specialist Pete Beaudoin at pete@thatse.com, or call the store at 508-755-4207.

Joe Pruett, in addition to being an Eisner award-winning comic book editor, publisher, and writer, is also the Publisher and CCO of AfterShock Comics. Pruett has been nominated for numerous Eisner, Harvey, and Eagle Awards. He is also known for his writing work at Marvel, where he wrote for X-Men Unlimited, Cable, and Magneto Rex. In addition to his X-Men writing work, Joe has written for virtually every other major comic publisher including Image, Vertigo, and IDW. He is currently writing Black-Eyed Kids from AfterShock Comics.

Paul Jenkins has contributed to the comic book, video game, film, and television industry for over 30 years, playing a large role in the shaping of several Marvel characters. Early in his career, Jenkins edited comic titles for notable creators, such as Alan Moore, Neil Gaiman, Dave McKean, George Pratt, Kevin Eastman and Peter Laird.

Jenkins worked on Batman, and in 1994, he took over writing for another DC title Hellblazer for five years. He then went on to write for Marvel Comics for the greater part of his career. Some titles Jenkins is best known for having written under the Marvel imprint are Wolverine: Origin, Spectacular Spider-Man, Civil War: Frontline, World War Hulk, The Sentry, and Inhumans, which earned him an Eisner Award. He is currently writing Alters from AfterShock.

Jenkins has worked on several notable video games including the Legacy of Kain: Soul Reaver 2, Prototype, Twisted Metal Black and the God of War series. He also wrote Incredible Hulk: Ultimate Destruction, created by Radical Entertainment; The Darkness, created by Starbreeze Studios, and The Darkness 2 by Digital Extremes.
That's Entertainment
244 Park Ave, Worcester, MA 01609
(508) 755-4207