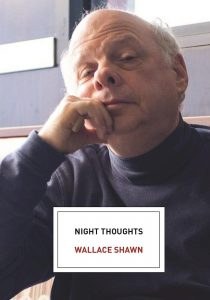 Acclaimed actor and writer Wallace Shawn appears to discuss and sign his new book Night Thoughts on Friday, September 22nd at 7:00 PM.
Although he is guided and inspired by the people he respects, and despite the insufficiency of his knowledge and experience – an insufficiency shared by most (or all) other humans, Wallace Shawn can't see any real alternative to trying to figure out his own answers to the most essential questions about the world he lives in. Having recently passed the age of seventy, before which he found it difficult to piece together more than a few fragments of understanding, Shawn would like to pass on anything he's learned before death or dementia close down the brief window available to him, but he may not be ready yet.
Wallace Shawn is an Obie Award-winning playwright and a noted stage and screen actor (Star Trek: Deep Space Nine, Gossip Girl, The Princess Bride, Toy Story). His plays "The Designated Mourner" and "Marie and Bruce" have recently been produced as films.
Joseph-Beth Cincinnati
2692 Madison Road, Cincinnati OH 45208
(513) 396-8960