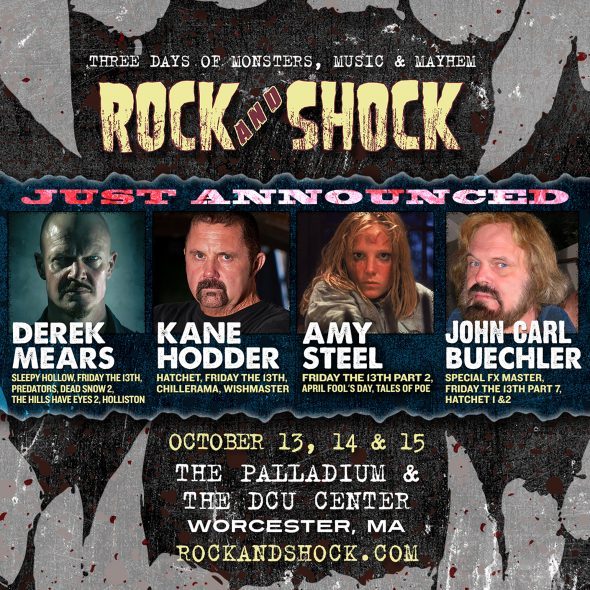 Press Release:
Rock and Shock family, it's time for more guest announcements! With Rock and Shock starting on a Friday the 13th, you know we had to celebrate by bringing in some fan favorite friends and fiends from the film franchise.
First up is one of our most requested campers, someone who is coming to Rock and Shock for the very first time, AMY STEEL! As Ginny in Friday the 13th Part 2, Amy played the first character to survive the wrath of Jason Voorhees. She is exceptionally kind and welcoming to her fans, and we're very excited to give you a chance to meet her.
Speaking of fan friendly, we're happy to welcome back DEREK MEARS! Memorable for his work with fellow Rock and Shock attendee Adam Green as well as his many characters played under heavy prosthetics in Sleepy Hollow, Mears first endeared himself to horror fans when he took up the hockey mask in a very well received performance as Jason in the 2009 Friday the 13th reboot.
Of course, when we're talking about Jason, KANE HODDER is the most popular man to ever play the Crystal Lake killer, and this year he is going to be participating in a very special professional photo op, brought to you by our friends at MAD MONSTER. Kane will be donning a replica of his Jason costume and makeup from Friday the 13th part VII: The New Blood! You will have the rare opportunity to have your picture taken with Kane in full costume, complete with a film accurate backdrop, printed out on 8×10 photo paper! What's even better is that the replica has been crafted from the original specs by another Rock and Shock 2017 attendee and the director and special effects creator of part VII, the one and only JOHN CARL BUECHLER! The photo op will happen, appropriately enough, on Friday, October 13th, and tickets are limited to just 100 so you might want to get one quick when they go on sale Tuesday, August 22nd (Note: each ticket is $160, which includes admission to the convention–but not the concerts–on Friday, and you can have up to two people in the photo). This will be a Friday the 13th weekend for the history books, and we hope you'll be here to share it with us!
Visit www.rockandshock.com for tickets, guest lists and more information about this year's show!