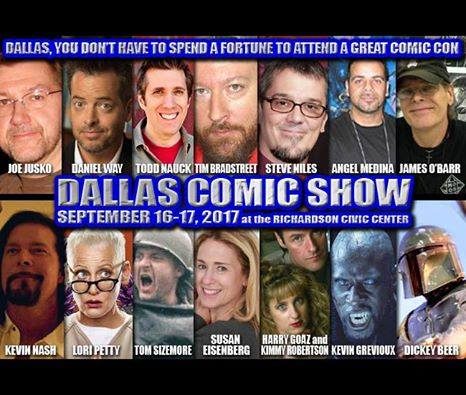 The Dallas Comic Show returns to the Richardson Civic Center on September 16-17, 2017 for a fun weekend filled with awesome guests and panels. Free parking, affordable admission, a great alternative to big box events that are sometimes too hectic for fans. Dallas Comic Show is a family-friendly event in the DFW area featuring exciting comic book and media guests, costumed characters, gaming and Anime content.
Our mission is to bring back an affordable pop culture convention experience to the DFW area, something everyone can enjoy and embrace without breaking the bank. This is show run by fans and done for fans. We are here to make sure you have fun.
Comic book guests include: Joe Jusko, Daniel Way, Todd Nauck, Tim Bradstreet, Steve Niles, Angel Medina, James O'Barr, John Lucas, Josh Howard, and many more.
Media guests include: Kevin Nash, Lori Petty, Tom Sizemore, Susan Eisenberg, Kimmy Robertson, Harry Goaz, Kevin Grevioux, Erik Stolhanske, Dickey Beer, Jamie Marchi, and more.
All guest appearances are subject to work commitments. Guests appear both days of the show unless otherwise noted.  Scroll down to bios for info on media guest prices. In rare instances some guests may have to postpone their appearances due to work commitments, we always try to note if that's occurred as soon as possible. Please note, Media Guests charge to sign your items or their merchandise, and most charge a fee for photos with them. Most comic book guests do not charge for autographs, but it's always wise to ask first.
This is a fun family event for all ages, Q&A panels all weekend, and costume contest Saturday night. All the info can be found at www.dallascomicshow.com