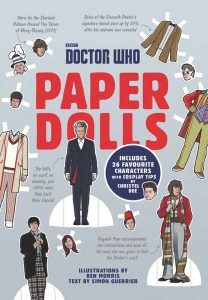 Simon Guerrier and Christel Dee will be signing DOCTOR WHO PAPER DOLLS at the Forbidden Planet London Megastore on Saturday 19th August from 1:00 – 2:00 PM!
Take a romp through time and space with this fantastic collection of Doctor Who paper dolls. Hours of crafting fun to be had with 26 dolls – including all 12 doctors and range of companions and characters, from Rose to Donna and Missy and new companion Bill. And there are 50 different outfits to change them into!
Learn the secrets behind the costumes, with insights from actors and producers, and find out how to take your own dress-up to the next level with cosplay tips from Doctor Who: The Fan Show's Christel Dee.
Simon Guerrier is co-author of Whographica and The Scientific Secrets of Doctor Who and has written countless Doctor Who books, comics, audio plays and documentaries.
Christel Dee is the presenter of Doctor Who: The Fan Show. A cosplayer, convention enthusiast and long-time Whovian, her popular YouTube channel features interviews with fans and cosplayers.
Forbidden Planet London Megastore
179 Shaftesbury Avenue, London, WC2H 8JR
0207 420 3666