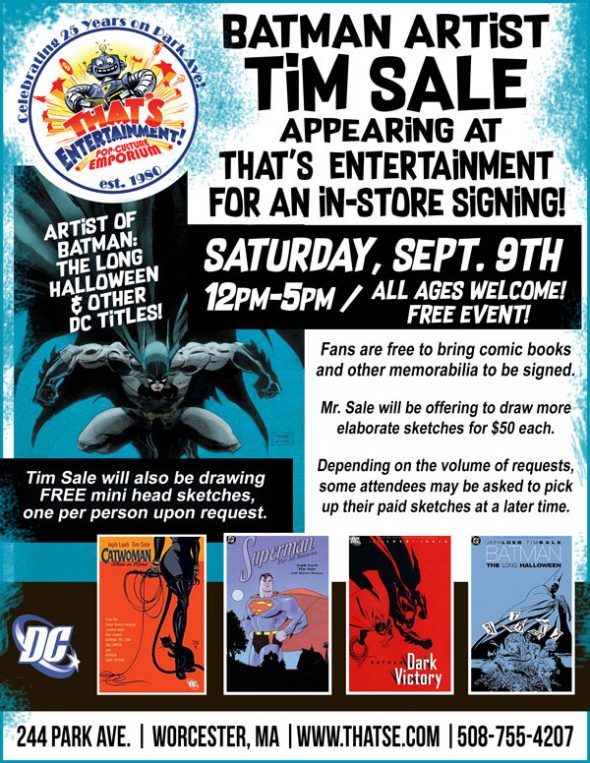 Artist Tim Sale appears at That's Entertainment on Saturday, September 9th from noon till 5:00 PM!
Press Release:
That's Entertainment of Worcester, MA continues to celebrate its 25th year of business on Park Avenue in a BIG way! Highly revered Batman artist Tim Sale will be appearing at That's Entertainment on Saturday, September 9th from 12:00 p.m. to 5:00 p.m. for an in-store signing. Also, all back-issue, trade paperback, and hardcover comic books will be 25% off all day long, 10:00 a.m. to 8:00 p.m. All "display" comic books retailing between $19.95 and $100 and under will also be 25% off.
Mr. Sale will be offering up to five signatures per person, free of charge. Fans are encouraged to bring comic books featuring Sale's artwork and related memorabilia to be signed. He will also be drawing free mini head sketches, one per person, upon request. Sale will be offering to draw more elaborate sketches for $50 each. Depending on the volume of requests, some attendees may be asked to pick up their paid sketches at a later time. This event is free and open to the public. All ages are welcome to attend.
Tim Sale is the artist on the Eisner Award winning BATMAN: THE LONG HALLOWEEN and SUPERMAN FOR ALL SEASONS, for which he won an Eisner for Artist of the Year. Along with writer Jeph Loeb, Sale also created DAREDEVIL: YELLOW, SPIDER-MAN: BLUE, HULK: GRAY and CAPTAIN AMERICA: WHITE for Marvel Comics. In 2018 he and writer Richard Starkings will debut the noir series, THE BROKEN MAN. Sale lives in Seattle with the beautiful and talented Susan Bailey, their two dogs and Bat-cat.
Manager Pete Beaudoin says, "I grew up a Marvel zombie, but Tim's Batman and Superman books were so gorgeous I had to read them. This opened up the world of DC Comics to me."
Supervisor Chad Julian states, "The Long Halloween by Tim Sale is my all-time favorite comic book."
Located at the corner of Lois Lane and Park Ave. in Worcester, MA, That's Entertainment is a pop culture emporium which specializes in everyone's "geek." Check out their wide variety of comics, vinyl records, vintage and modern video games and systems, anime, collectible card games, roleplaying games, board games, sports cards, memorabilia, toys, posters, and so much more!
That's Entertainment
244 Park Ave, Worcester, MA 01609
(508) 755-4207