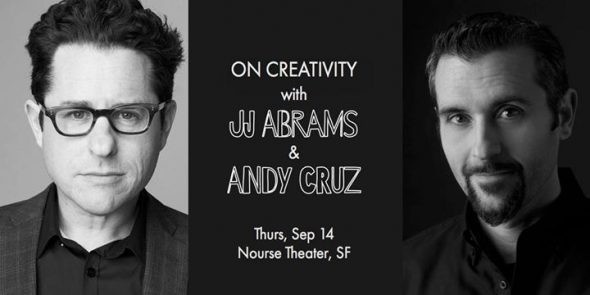 Director JJ Abrams and Andy Cruz appear in conversation with Adam Savage on Thursday, September 14, 2017 at 7:30 PM. Tickets available at the link…
JJ Abrams is a celebrated writer, producer, composer, and director for movies, including Armageddon, Star Trek, and Star Wars: The Force Awakens, and television shows, including Felicity, Alias, Lost, and Westworld. Recently he became the second director ever to direct a film that grossed over two billion dollars at the box office. In 2009 he co-created and co-starred as the pianist in the music video for the song "Cool Guys Don't Look at Explosions," with Will Ferrell and Andy Samberg. He has won numerous awards and is currently working on an HBO series with Jordan Peele, the director of Get Out.
Andy Cruz is the co-founder and creative nerve center of House Industries, the design company known for their fonts and far-reaching collaborative work with Muji, Hermès, The Eames Office, Jimmy Kimmel, and The New Yorker. Cruz's interests such as hot-rods, Japanese folk art, and skateboarding fuel projects ranging from fashion and fonts to ceramics and satellites. His work is in the permanent collections of the Smithsonian Institution's Cooper-Hewitt, National Design Museum, and the Henry Ford Museum of American Innovation. The Process is the Inspiration, co-authored with Rich Roat and Ken Barber, considers how to turn curiosity into successful work. JJ Abrams wrote the book's foreword.
Nourse Theater
275 Hayes St, San Francisco, California 94102
(415) 563-2463