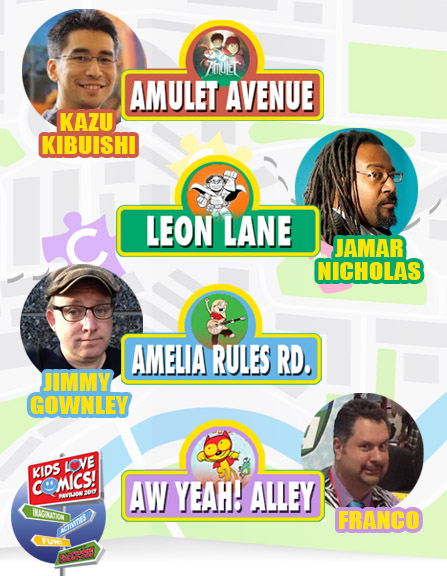 Press Release:
Family fun returns to the 2017 Baltimore Comic-Con this September 22-24 at the Baltimore Convention Center in the beautiful Inner Harbor. The Baltimore Comic-Con presents the Kids Love Comics Pavilion, where kids and parents can venture towards comics fun with the biggest and best kids section at any comic convention – so big, you might need a road map! For 2017, the Kids Love Comics Pavilion welcomes #1 New York Times best-selling author Kazu Kibuishi, whose Amulet graphic novels have been read by millions across the US and beyond. Kibuishi was also chosen as cover illustrator for new editions of the Harry Potter book series by J.K. Rowling.
There will be something for every member of your family at this year's KLC area in Baltimore, as attendees walk through four kid-friendly "avenues," featuring some of the best kids and young adult comic creators, as well as a fun-filled comics activity area to rev up the imagination. Families will also enjoy the Kids Love Comics Workshop, where hourly presentations will be given in character creation, drawing imaginary creatures, making comics, and young sidekicks can even attend and graduate from "Super Hero University!"
A diverse group of writers and artists will be on hand at Amulet Avenue, Amelia Rules Road, Aw Yeah Avenue, and Leon Lane – each of these streets centered around some of the beloved creators in the Kids Love Comics Pavilion and Baltimore Comic-Con veterans. Besides Kazu's Amulet Avenue, Jimmy Gownley's adored Amelia Rules! series gets it's own designated row, as well as Tiny Titans and Aw Yeah Comics by writer/artist Franco. One special addition is Leon Lane, in which cult comics favorite Jamar Nicholas gets the spotlight, as he premieres the long-awaited Leon, Protector of the Playground graphic novel.
Parents, bring your kids to the Baltimore Comic-Con the weekend of September 22-24 at the Baltimore Convention Center! Tickets are now available, and as always, kids 10 and under get into the show free with a paid adult admission. (Please note: does not apply to early VIP admission or Special Event tickets.)
For more info on Kids Love Comics, please visit kidslovecomics.net.
Creators appearing at the 2017 Baltimore Comic-Con Kids Love Comics Pavilion include:
Carolyn Belefski (Curls)
Harold Buchholz (Wild Lion, MST3K)
Joe Carabeo (French Fry Club)
J. Robert Deans & Elinda Deans (Shakes the Cow)
Charles C. Dowd (A to Z Guide to Jobs For Girls)
Emily Drouin (Eplis)
Tod Emko & Piggy (A Piggy's Tale)
Tim Fielder (Matty's Rocket)
Chris Flick (Capes & Babes)
Franco (Tiny Titans, Aw Yeah Comics)
John Gallagher w/ Katie, Jack & Will Gallagher (Buzzboy, EPIC Bros., Zoey & Ketchup)
Shannon Gallant (GI Joe, Pink Panther)
Jimmy Gownley (Amelia Rules!, The Dumbest Idea Ever)
John Green (Hippopotamister)
Dawn Griffin (Zorphbert & Fred)
Kata Kane (Altar Girls)
Kazu Kibuishi (Amulet, Harry Potter cover artist)
David Landis (Papercuttables)
Mike Lopez (Life's A Beach, Kids Comic Con)
Mike Maihack (Cleopatra In Space)
Mark Mariano (Claire Lost Her Bear at the World's Fair, Flabbergast)
Jamar Nicholas (Leon, Protector of the Playground)
Chris O>Matic (KLC Workshop host)
Dan Parent (Archie)
Mark Poulton (A Cat Named Haiku and Pizza Tree)
Kyle Puttkamer (Hero Cats)
Andy Runton (Owly)
Gregg Schigiel (Pix)
Jeff Shultz (Archie)
Alex Simmons (Archie, Kids ComicCon)
Ted Tucker (Caricatures)
Emilio Velez Jr. (Dodgeball Teens)
Todd Webb (Mr. Toast Comics, NerdFest Game Artist)
Marcus Williams & Greg Burnham (Tuskegee Heirs)
Visit www.baltimorecomiccon.com/tickets for more information and to purchase your advanced tickets!
In the coming weeks, look for more announcements from the Baltimore Comic-Con. We are looking forward to highlighting our guests, industry exclusives, and programming. The latest developments can always be found on our website, Twitter, Instagram, and Facebook pages.