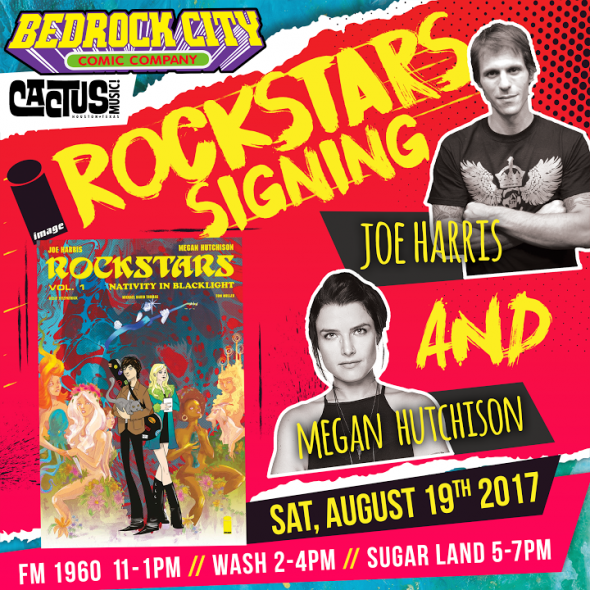 Writer Joe Harris and artist Megan Hutchison, creators of ROCKSTARS, appear at all three Bedrock City Comics Co. locations on Saturday August 19th to sign, sketch, sell prints, and share with you some of the great ROCK CONSPIRACY THEORY stories every told!
ROCKSTARS TOUR DATES (RSVP at the links)
FM1960 location: 11:00 AM – 1:00 PM
Washington location 2:00 – 4:00 PM
Sugar Land location 5:00 – 7:00 PM
Get your copy of ROCKSTARS Vol. 1 for only $9.99 from your local Bedrock City Comic Co. location and receive a FREE temporary tattoo AND a coupon good for 20% off a regular priced product from Cactus Music's ROCKSTARS display!!!
What does the sigil represent? Find out this summer!! You're gonna want to pick these comics up! Trust me!
…and may we suggest that you check out the playlist that accompanies the book on Spotify!
Pre-Order
ROCKSTARS #6
out 8/16/17
NEW STORY ARC
"CHILDREN OF THE BEAST," Part One
Devilishly deviant ROCKSTARS returns with a heavy metal mystery to sell your soul to! Self-proclaimed "rock 'n' roll investigators" Jackie Mayer and Dorothy Buell uncover a sinister connection between an '80s metal legend and the hot, new shredding sensation Dani Dangerous. Smart and darkly fun, ROCKSTARS is a head-banging, demonic descent behind the music.
Megan Hutchison will do quick sharpie sketches of Jackie, Dorothy or Skydog for free during our ROCKSTARS signings on August 19th. Megan is also available for commissions ahead of time! Prices are as follows:
4″x 6″ $30
5″x 7″ $45
6″x 6″ $60
6″x 8″ $75
8″x 8″ $90
8″ x 10″ $120
9″ x 12″ $150
Commissions are color done with brush pen and gouache. Please email Megan directly for commissions: blackem.art@gmail.com
Joe and Megan will also have prints available for purchase: 11×17 prints of ROCKSTARS cover 2 and 3 on nice watercolor paper. They're $15 each or both for $25. You can check these prints out at each of our locations' ROCKSTARS display.
Bedrock City Comic Co.
4683 FM 1960 Rd W, Houston, Texas 77069
4602 Washington Ave Ste A, Houston, Texas 77007
4831 Highway 6, Missouri City, Texas 77459