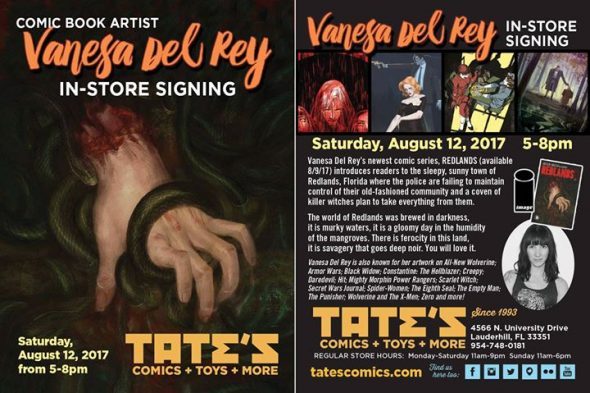 Artist Vanesa Del Rey signs at Tate's Comics on Saturday, August 12th at 5:00 PM.
Vanesa's newest comic series, REDLANDS (available 8/9/17) introduces readers to the sleepy, sunny town of Redlands, Florida where the police are failing to maintain control of their old-fashioned community and a coven of killer witches plan to take everything from them.
The world of Redlands was brewed in darkness, it is murky waters, it is a gloomy day in the humidity of the mangroves. There is ferocity in this land, it is savagery that goes deep noir.
Vanesa Del Rey is best known for her artwork on All-New Wolverine, Armor Wars, Black Widow, Constantine: The Hellblazer, Creepy, Daredevil, Hit: 1957, Mighty Morphin Power Rangers, Scarlet Witch, Secret Wars Journal, Spider-Women, The Eighth Seal, The Empty Man, The Punisher, Wolverine and The X-Men, Zero and more!
Tate's Comics
4566 N. University Drive, Lauderhill, FL 33351
954-748-0181