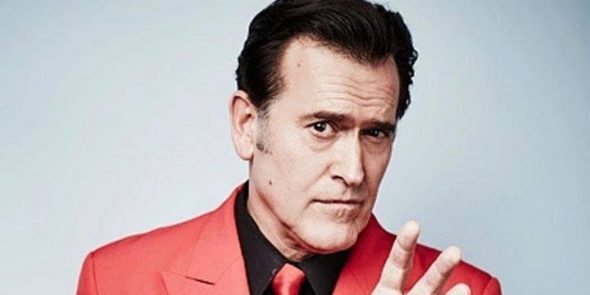 Bruce Campbell, star of the Evil Dead franchise, appears at Music Box Theatre on Friday, September 1, 2017 at 7:00 PM.
Press Release:
Join us for an evening with "Evil Dead" and "Burn Notice" star Bruce Campbell! All attendees will play the "Last Fan Standing" interactive live trivia game hosted by Bruce, and all attendees will receive a signed copy of Bruce's new book, Hail to the Chin: Further Confessions of a B Movie Actor.
A limited number of VIP tickets are available, for those wanting to meet Bruce, get a photo, and have a signed, personalized copy of the new book! VIP ticket holders will get the best seats, too!
In Hail to the Chin, Bruce Campbell makes his triumphant return from where he left off in If Chins Could Kill with further hilarious, gut-wrenchingly honest confessions.
Bruce brings us through his life in the decade since his first memoir and his roles as varied as they are numerous- from his roles in the Spider-Man movies to his self-referential My Name is Bruce to his role on #1 show "Burn Notice" and his new STARZ hit series "Ash vs Evil Dead."
Hail to the Chin bursts with pictures and the signature humor that Bruce brought to If Chins Could Kill, and will be devoured by his legions of fans across the country.
Music Box Theatre
3733 N Southport Ave Chicago, IL 60613