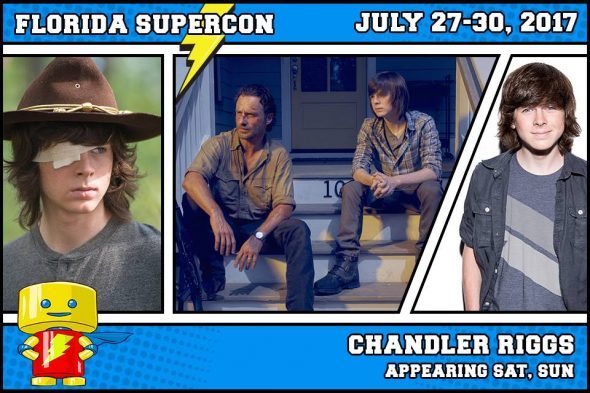 Chandler Riggs, best known for his role as Carl Grimes on The Walking Dead, has just been added to the guest list for FLORIDA SUPERCON www.floridasupercon.com JULY 27-30, 2017 @ The Greater Fort Lauderdale Convention Center.
FLORIDA SUPERCON is 4 days of fun featuring celebrity guests, comic book creators, voice actors, industry guests, cosplayers, artists, writers, panels, Q&A's, films & shorts, costume & cosplay contests, vendors, parties, anime, workshops, video gaming and more!
Over 150 TV and Movie Stars, Comic Book Creators, Entertainment Guests, and Cosplay Guests will be at Supercon! Keep an eye on http://floridasupercon.com/all-guests-florida-supercon/to stay up to date on who is coming! Some of the guests already confirmed include:
TV & MOVIE STARS
Peter Capaldi: Doctor Who
John Barrowman: Arrow, Doctor Who, Torchwood
Karen Gillan: Guardians of the Galaxy, Doctor Who
Lee Majors: The Six Million Dollar Man, The Fall Guy
Darryl "DMC" McDaniels: Darryl Makes Comics, RUN-DMC
Ricky Whittle: American Gods, The 100
Levar Burton: Star Trek: Next Generation, Reading Rainbow
Armin Shimerman: Star Trek: DS9, Buffy the Vampire Slayer
John de Lancie: Star Trek: The Next Generation, My Little Pony
Chandler Riggs: The Walking Dead
Michael Cudlitz: The Walking Dead, Southland
Josh McDermitt: The Walking Dead
Jason David Frank: Mighty Morphin Power Rangers
Amy Jo Johnson: Mighty Morphin Power Rangers, Felicity
Ralph Macchio: The Karate Kid, The Outsiders
William Zabka: The Karate Kid, The Equilizer, Back to School
Martin Kove: The Karate Kid, Death Race 2000
Jason Mewes: Clerks, Dogma, Jay and Silent Bob Strike Back
Brian O'Halloran: Clerks, Clerks II
Randy "The Cowboy" Jones: The Village People
Chris Sarandon: Nightmare Before Christmas, Princess Bride
Ken Page: The Nightmare Before Christmas
David Newell: Mister Rogers' Neighborhood
Lloyd Kaufman & Troma Entertainment: Toxic Avenger
Randy "The Cowboy" Jones: The Village People
Linda Blair, star of The Exorcist, Repossessed
Lindsey McKeon: One Tree Hill, Supernatural
Cindy Morgan: Caddyshack, TRON
Tony Todd: Candyman, The Flash, Transformers
Taimak: The Last Dragon
Jeremy Palko: The Walking Dead, Bloodline
Tate Steinsiek: Face Off, Puppet Master
Justin Nimmo: Power Rangers In Space
Roger Velasco: Power Rangers In Space, Power Rangers Turbo
Scotty Schwartz: The Toy, A Christmas Story
Mica Burton: Achievement Hunter
with more to come!
COMIC BOOK CREATORS
Sara Pichelli, David Finch, Jim Shooter, Keith Giffen, Aaron Kuder, Ed McGuinness, Darryl "DMC" McDaniels, Mike Zeck, Jose Delbo, Neal Adams, Rafael Albuquerque, David Lloyd, Kevin Nowlan, Peter J. Tomasi, Allen Bellman, John Beatty, Jeff Dekal, Jeremy Clark, Greg Horn, Andy Belanger, Kevin Maguire, Jeremy Whitley, Vanesa R. Del Rey, Georges Jeanty, David Messina, Marat Mychaels, Mostafa Moussa, Mindy Wheeler, Michael Kingston, Larry Elmore, Tyler Crook, Michelle Delecki, Terry Cronin, Rich Bonk, Adelso Corona, Greg Kirkpatrick, Danielle Otrakji, Ralph Cabrera, Mervyn McKoy, Alexis Ziritt, Vinnie Tartamella, Rafael Scavone, Clayton Henry, Buzz, Jude Millien, Jose Varese, Eric Bonhomme, Zenescope Entertainment, Creature Entertainment, Joel Adams, Dick Kulpa, and more to come!
ANIMATION & ANIME STARS
Tony Anselmo: Donald Duck
Zach Callison: Steven Universe, Sofia the First
Vic Mignogna: Fullmetal Alchemist, Ouran High School, RWBY
Colleen Clinkenbeard: Fairy Tail, One Piece, Yuri on Ice
Charlet Chung: Overwatch, Call of Duty: Black Ops 3
Jonny Cruz: Overwatch
Josh Petersdorf: Overwatch, League of Legends, Warcraft
Lindsay Jones: RWBY, Rooster Teeth, Achievement Hunter
Barbara Dunkelman: RWBY, Fairy Tail, Rooster Teeth
Kellen Goff: Five Nights at Freddy's: Sister Location
Josh Grelle: Attack on Titan, Date A Live, Free!, Yuri on Ice
B.J. Ward: G.I. Joe, Scooby Doo
Michael Bell: G.I. Joe, The Transformers
Shanon Farnon: Superfriends, Valley of the Dinosaurs
Dana Snyder: Aqua Teen, Justice League Action, Lego Star Wars
Chuck Huber: Soul Eater, Dragon Ball Z, One Piece
with more to come!
WRESTLING STARS
Ric Flair, Sting, Mick Foley, Amy "Lita" Dumas, Jerry "The King" Lawler, Leva "Blue Pants" Bates, Alex Chamberlain, Gangrel, Teddy Long, with more to come!
COSPLAY GUESTS
Bindi Smalls, Mica Burton, Martin Wong Photography, Danielle Beaulieu, Danielle DeNicola, Haiden Hazard, Jean WanWan, Alyson Tabbitha, Antonina Anime, Celissi Cosplay, Amy Nicole Cosplay, Gothic Sushi, AKrCos, Allen Ryde, Chasis Photos, Kiki Kannon, Handsome Jordan, Harley's Love Shack, Sandmuffin Makeup, MiaAckerman Cosplay, SkyCosplays, ZipperTan, Brianna Blackfire, Hanari Solomon, and more to come!
LITERARY GUESTS
Kevin J. Anderson, Josh Vogt, Lt. Col. Keith Ikenberry, Keith R.A. DeCandido, J Scott Savage, P.L. McCall II, Bold Venture Press, Jeff Sass, Chris Berman, E. Robert Dunn, Elyse Reyes, and more to come!
ENTERTAINMENT GUESTS
FSCW (Florida Super Championship Wrestling), Lisa Corrao, Pineapple-Shaped Lamps, Revenge of the Nerds Comics, Cupcake Burlesque, Halo Kitty, Combat Robots, MyGeekGoddess, Gamemaster Nick, Guy Hutchinson, Kyle Marlett, Nerds Know, Noise Complaint, Mew World Order, Orange Anime, Patty Hawkins, Hips of Destruction, Robot Costumes USA, Screech Dragon Studios, DJ Anim8ted, SaberCraft, and more to come!
Planning to come? Join us on our Facebook event page at https://www.facebook.com/events/1297731703585276/?