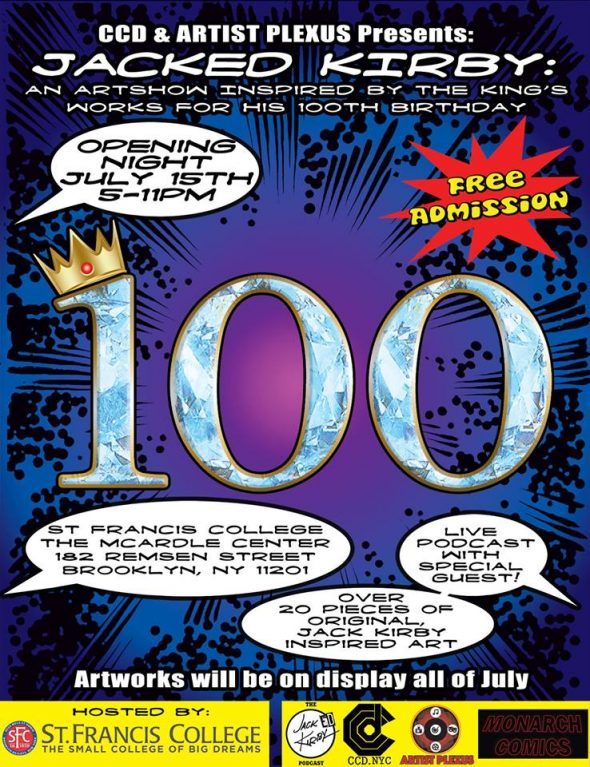 Press Release:
CCD.NYC & Artist Plexus Present: JACKED KIRBY: An Art Show Inspired by The King's Works For His 100th Birthday!!!
Come on down Saturday July 15th and let's celebrate Jack "The King" Kirby for his 100th Birthday with a group art show featuring works inspired by Jack Kirby's greatness! Over 20 pieces of original art will be on display, each of them influenced by The King!
We'll also be recording a LIVE edition of the Jacked Kirby Podcast during the event. Hosts Mike D & Tommy Lombardozzi will be leading a panel discussion featuring comic industry all-stars:
Nelson DeCastro – artist, Marvel, DC, Dark Horse Comics
Frank Tieri – writer, Marvel, DC, Top Cow, Archie Comics, Dynamite Entertainment
Vincent Ferrante – creator & publisher of Monarch Comics and Witch Hunter
Plus, members of the CCD family guesting as well, all celebrating the greatness of Jack Kirby on his 100th Birthday!
There will be over 25 pieces of artwork displayed by these talented artists:
Tommy Lombardozzi
Alfred Accettura
Mike DeVito
Joey Armao
Chris Clarke
Danielle Barbaro
Lokey Man Lee
Arlen Schumer
Adam Lordi
Aaron Wade
Kieran X Quinn
Erle Tompkins
Hunter McFalls
Mike Bailey
Matthew T. Perry
Mike Monge
Donny David
and more…
Doors open for the reception at 5:00 PM.
Podcast will record around 7:00 – 7:30 PM
St. Francis College
180 Remsen St, Brooklyn, New York 11201
(718) 489-5200