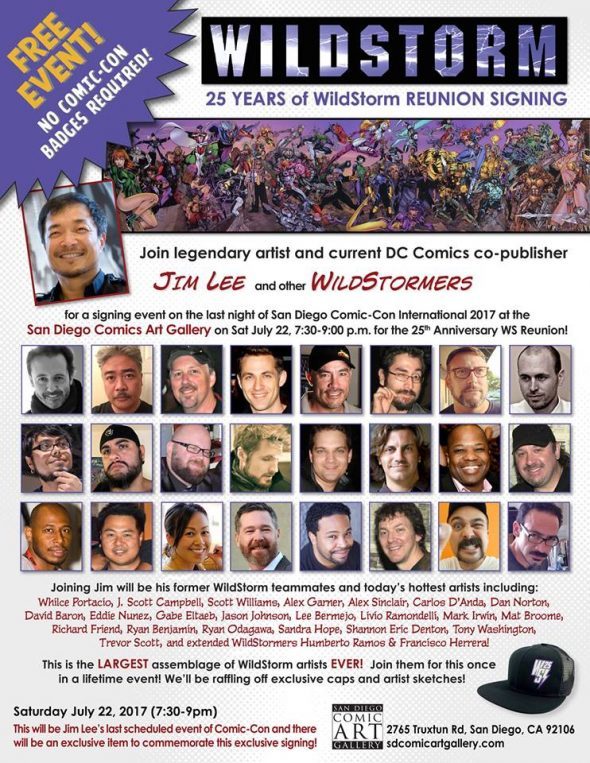 Press Release:
Join legendary artist and current DC Comics co-publisher Jim Lee & other WildStormers for an event you won't forget!
Saturday July 22nd, from 7:30PM – 9:00PM, San Diego Comic Art Gallery is excited to be hosting the 25th Anniversary WildStorm Reunion!
Joining Jim will be his former WildStorm teammates and today's hottest artists including:
Whilce Portacio
J. Scott Campbell
Scott Williams
Carlos D'Anda
Lee Bermejo
Alex Garner
David Baron
Eddie Nunez
Jason Johnson
Jeff Mariotte
Livio Ramondelli
Mark Irwin
Mat Broome
Richard Friend
Ryan Benjamin
Ryan Odagawa
Sandra Hope
Shannon Eric Denton
Trevor Scott
…and MORE!
**JUST ADDED** Francisco Herrera and Humberto Ramos!
This is the LARGEST assemblage of WildStorm artists EVER, so join them for this once in a lifetime 25 Years of WildStorm event!
This will be Jim Lee's LAST scheduled event of Comic-Con and there will be an exclusive item to commemorate the event!
San Diego Comic Art Gallery – Barracks 3 First Floor
2765 Truxtun Road, San Diego, CA 92106
(858) 270-1315