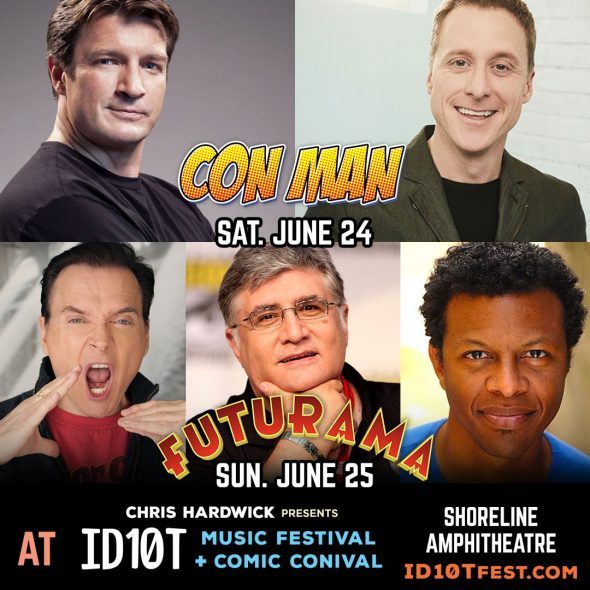 Chris Hardwick's Id10t Music Festival + Comic Conival, has added panels featuring the stars of Con Man, Animaniacs, and Futurama to their schedule for this weekend's festival at the Shoreline Amphitheatre and the surrounding grounds in Mountain View, CA on Saturday, June 24 and Sunday, June 25th!
SATURDAY, JUNE 24
Moderated by Chris Hardwick.
A decade has passed since Wray Nerely (Alan Tudyk) was an actor on the hit (well, cult hit) sci-fi show, Spectrum. Wray's career has stalled in the vacuum of space while his best friend and former co-star, Jack Moore's (Nathan Fillion), has hit warp speed. Aided by his truly certifiable convention booker, Bobbie (Mindy Sterling), Wray navigates the sci-fi convention circuit alongside a host of colorful who's-whos and has-beens. He struggles with the trappings of a stagnant career, the adoration of a rabid fanbase, and an industry that only sees him as a quirky spaceship pilot.
SUNDAY, JUNE 25
Hatched from Matt Groening's brain, Futurama follows pizza guy Philip J. Fry (voiced by Billy West), who reawakens in 31st century New New York after a cryonics lab accident. Now part of the Planet Express delivery crew, Fry travels to the farthest reaches of the universe with his robot buddy Bender and cyclopsian love interest Leela, discovering freaky mutants, intergalactic conspiracies and other strange stuff. The panel will feature West (Philip J. Fry), Maurice LaMarche (Morbo) and Phil LaMarr (Hermes Conrad).
Moderated by Chris Hardwick.
Animaniacs LIVE! is a musical revue starring original cast members Rob Paulsen (Yakko, and Pinky from Pinky and the Brain) and Maurice LaMarche (Brain from Pinky and The Brain), accompanied by Emmy winning composer Randy Rogel, who wrote and created many of those memorable songs you STILL can't remove from your brain pan.
Featuring a number of songs from the run of the show, Animaniacs LIVE! is based on the beloved WB cartoon Animaniacs which delighted television audiences from 1992 to 1998. Cartoon clips will be shown alongside the talent. In addition to the concert, Rob, Maurice and Randy share behind the scenes secrets about the making of the series! Whether you're a lover of music, animation, or fun, experience Animaniacs like never before in Animaniacs LIVE!