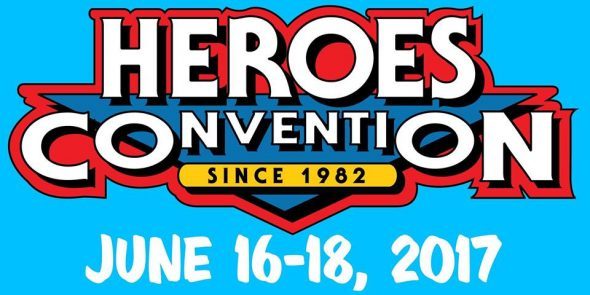 HeroesCon 2017 programming is now available! Plan your weekend ahead of time.
FRIDAY JUNE 17
2:00 PM
Room 201/202
SCAD WORKSHOP I: CREATING MAQUETTES
Maquettes are a large part of the entertainment industry in film, animation, video games, sequential art, and toy design. John Larison In his 18 years at SCAD, he has helped to co-create four minors, ceramics, storyboarding, concept design, and action figure design will talk about and show you the different media applicable to sculpting maquettes, and go over the basics of maquette building during his workshop. Sculpting is not easy, but it is definitely fun. John will let those who come to his workshop play with the material and tools and learn about the cost involved for each material.
2:00 PM
Room 203A
MICHAEL GOLDEN
Back Issues' own Eric Nolen-Weathington sits down with MICHAEL GOLDEN (The Nam, Punisher, and Micronauts (and practically everything else as well!)) for a career spanning retrospection. Don't miss it.
2:00 PM
Room 206
COLOR OF FANDOM–DIVERSE COMICS FOR KIDS
COLOR OF FANDOM provides parents comic book recommendations with diverse protagonists that are appropriate for their elementary and middle school aged children. A child's self-esteem is highly influenced by whether or not they see themselves reflected in the stories that they see and hear. Children that are exposed to diverse stories develop a greater sense of empathy for the world that they inhabit. ROBIN MCGLOTTEN and her team will offer their recommendations of some diverse comics for young readers from pre-school through middle school
2:00 PM
Room 207A
CURSE WORDS
Join the creators of Image Comics morally-reprehensible wizard comedy for a sinister science fantasy séance! CHARLES SOULE and RYAN BROWNE are joined by Nerdy Show's Cap Blackard and A Comic Show's Aaron Haaland to unlock the series' dark secrets and answer Margaret fan mail.
2:00 PM
Room 207D
LICENSING in the COMIC INDUSTRY
Tom Heintjes from Hogan's Alley talks about Licensing products—the challenges and rewards—with a team of stalwarts: STEPHANIE GLADDEN, JOE STATON, SCOTT SHAW! DAVE DORMAN, and GEORGES JEANTY
2:00 PM
Room 208
ZDARSKY AHOY!
HeroesCon's own Jughead, DOUG MERKLE sits down with CHIP ZDARSKY (Sex Criminals, Jughead, Howard the Duck) and examines Chip's comic's career. Warning: the conversation is likely to fall into the TV-MA category
2:30 PM
Room 203B
QuickDraw–A HeroesCon tradition with your MC our Queen of QUICKDRAW, FANCY PANTS gives you #2 pencils and Bristol board; you give her 20 minutes and all of your feverish inspiration. Then we have an Art Instructor judge the results and we, in turn, give the winner some fabulous prizes. It's a win-win. Prizes are awarded for 1st, 2nd, and 3rd place in the following age categories: 0-10, 11-15, and 16 to 99. The Quick-draw is held on all three days, so we need those pencils back!! Be there! Pencil purloiners will be persecuted persistently.
3:30 PM
Room 203A
ARCHER
Heroes' own proud outspoken member of the Witness Protection Program Jason Wheately sits down for a Sterling conversation with three of the brilliant folks who have worked on the hit FX show ARCHER: NEAL HOLMAN, KEVIN MELLON, and KATHRYN HUDSON
3:30 PM
Room 203B
COLOR COMMENTARY
With this year's guest list boasting so many of comics' best colorists, the biggest concern was fitting them all into one panel. Our solution? Have TWO! (The other is on SUNDAY!!!) Looking to demystify the coloring process and answer your questions in the first of two Color Commentary panels this weekend, moderator Greg Matiasevich (Multiversity Comics) is joined by colorists LAURA MARTIN, MATT WEBB, KELLY FITZPATRICK, MATT WILSON, and MARISSA LOUISE
3:30 PM
Room 206
SCIENCE IN COMICS & TEACHING SCIENCE WITH COMICS
Reed Richards! Ray Palmer! Barry Allen! Riri Williams! Tony Stark! Not only is there a ton of good science and scientists in comics, but as teachers know, comics can be used to teach STEM topics! Join science educators & communicators MATT and SHARI BRADY (TheScienceOf.org), CHRIS (Chemystery) PREECE along with artist Josh Reynolds for a lively panel about some great science moments in comics: Preece & Reynolds "Chemystery," and how Deadpool, Gwen Stacy, Iceman and more are being used in classroom settings to teach STEM! Yes, we know it's summer vacation, but come on in and learn some science from comics!
3:30 PM
Room 207A
Famous Monsters of Filmland master BASIL GOGOS
Legendary monster artist BASIL GOGOS has a dedicated fan following as chronicled in the best-selling Vanguard book, Famous Monster Movie Art of Basil Gogos. His original Famous Monsters magazine cover paintings of the 1960s and '70s are highly sought-after and he has works in the collections of filmmakers and rock stars including Rob Zombie, Johnny Depp, Nicholas Cage, Metallica guitarist Kirk Hammett, and Benicio Del Toro. Catch this spookily special appearance of the Master of Monsters at his second Heroes Con appearance ever. Moderator: J. David Spurlock, the best-selling author of How to Draw Chiller Monsters, Werewolves, Vampires, and Zombies
3:30 PM
Room 207D
THE CRAFT OF COMICS
Comics isn't just an art form- it's a craft. And like any craft, it's one that has to be continually honed. Join moderator Chris Brennaman (www.atlantageekscene.com) and creators JIM RUGG, ED PISKOR, EVAN DORKIN, MICHEL FIFFE, and NATALIE ANDREWSON as we spend the hour talking about the nitty-gritty of what goes into making a career of creating comics.
3:30 PM
Room 208
DEADPOOL AND HARLEY QUINN!!!
–two of the most unlikely superstars and their pioneer creators FABIAN NICIEZA and TERRY DODSON are joined by Jason Wood (the 11 O'Clock Comics podcast) to talk about the genesis and the rise in popularity of everyone's favorite violent misanthropes. Come Monday morning, this will be the panel everyone is talking about!
4:00 PM
Room 201
SCAD WORKSHOP II: COMICBOOK STORYTELLING – A CRASH COURSE!
TOM LYLE, a 12 year SCAD Professor and accomplished comic artist who co-created Spoiler for DC and designed the SCARLET SPIDER is going to utilize his 25 years of experience as a comic book storyteller, in order to give you a rousing workshop that highlights the basics of comic book storytelling. He'll help you find your own voice through the pictures you draw. Just like the big guys. Think you know storytelling? You'll know it even better after this. Come and have a great time. No supplies needed.
4:30 PM
Room 207BC
COSPLAY: FABRICATION 101
Sometimes a cosplay needs more than fabric. We'll talk about props, accessories and the items that don't need a sewing machine, plus some great tips for staying on budget. Panelists: DJ Spider, Aaron Riven, Cherlyn Lambeth Moderator: Sean Patton
5:00 PM
Room 203B
LGBTQ+ COMICS, CHARACTERS & CREATORS
Celebrate the full spectrum of queerness on the comic page. Cap Blackard and Bryan Pittard of The Nerdy Show Network will discuss with TAMRA BONVILLAIN, TEE FRANKLIN, MICHELLE NOLAN, and ZORA GILBERT why representation is so important and how fiction can set you free!
5:00 PM
Room 206
HEROINES IN POP CULTURE: A DEBATE ON PROGRESS
Was Rogue One a feminist step forward with Jyn Erso as the lead, or was it more of the same from Hollywood with an almost entirely male set of supporting characters? Does Eleven from Stranger Things represent a welcome trend or is she an anomaly? Is Emma Watson's Belle a modern role model or throwback damsel-in-distress? This panel-moderated by Craig Pohlman, Ph.D., Southeast Psych- will grapple with these questions and more as two teams of psychologists debate how much progress has been made with female power in pop culture. Dr. Megan Connell, Dr. Ryan Kelly, Lindsay Stewart, Emma Kate Wright, Jonathan Hetterly, and Julie Caskey
5:00 PM
Room 207D
OUT OF STEP ARTS (OoSA)
was founded by Neil Bramlette to support and promote emerging and established artists who are not only interested in working in comics, but also have interests in other forms of visual art cultures, story development and printed matter. From mainstream to DIY/Indi comics, editorial illustration to concept development, animation and beyond – Join NATHAN FOX, ANDREW MACLEAN, ALEXIS ZIRRITT, PAUL MAYBURY, LOGAN FAEBER, CHRIS VISIONS, and VANESSA DEL REY for a conversation with OOSA artists about how they defined their unique voices, maintain their art practice and get a rare glimpse into their craft, process and contribution as professional storytellers and myth makers.
5:00 PM
Room 208
COMIC BOOK STORYTELLING
Former Marvel Editor in Chief JIM SHOOTER explains the principles of visual storytelling. Using a slide presentation of Jack Kirby's work on Captain America, Jim walks you through the cinematography of the graphic story and shows you how to make compelling images that deliver your story with power and precision. Essential knowledge for writers as well as artists
5:00 PM
Room 209/210
INKWELL AWARDS
Celebrate 7 years of recognizing and awarding comicdom's finest inkers at Heroes Con with the at their live, annual awards ceremony on Friday the 16th at 5pm in rooms 209-210.
Joining our host & co-presenter Bob Almond and hostess & spokesmodel Ms. Inkwell:
GUEST OF HONOR JOE GIELLA!
And guest speaker: Timely/Atlas/Marvel legend ALLEN BELLMAN! Artist MIKE PASCALE as co-presenter! Surprise creator guests! See the live results of who was chosen on last April's ballot as your favorite 2016 comic book ink artists! Who will enter the Joe Sinnott Hall of Fame? And the FIRST 25 non-member/non-award recipient ATTENDEES will win a DOORPRIZE in a post-ceremony giveaway! Please join us!
5:30 PM
Room 203A
COMICS AND THE LIBRARY
Comics and graphic novels are an important and popular literacy tool for the modern library. This panel will share information about two local library collections, the importance of the format with regard to literacy development and some great materials offered for free at the library. Come with us– Angel Truesdale, Amanda Davis, Kapil Vasudev, Jamey Rorie, and Stacy Rue (All Charlotte area librarians!)- As we explore a brief history of comics and how libraries have had to fight to place comics in their collections. We'll also discuss how you can have an effect on your library comic collection and where to find free library events focused on comics. We are excited to hear your suggestions, comments, and questions!
6:15-7:00 PM
HEROES BOOTH 1408/1410
LOOSE ENDS #4 HEROES VARIANT SIGNING
JASON LATOUR, CHRIS BRUNNER and RICO RENZI will be signing copies of the exclusive HEROESCON special variant of LOOSE ENDS #4 at the HEROES Booth 1408/1410
7:00 PM— THE CON IS CLOSED FOR THE DAY, BUT THE FUN DOESN'T STOP!!!!
7:30 PM –HEROESCON'S DRINK AND DRAW BEGINS AT THE WESTIN BALLROOM ACROSS THE STREET at the WESTIN HOTEL 'natch!!
STOP BY AND BE A MULTI-TASKER: DRINK AND DRAW: COME CREATE SOME GREAT MEMORIES AND BUY SOME GREAT ART AND HELP US RAISE MONEY FOR TEAM CUL DE SAC AND PARKINSON'S RESEARCH!
SATURDAY JUNE 17
11:00 AM
Room 203B
PREPRESS
Moderator MARISSA LOUISE sits down with NOLAN WOODARD, ERIC POWELL and KEVIN MELLON to discuss how to get your book ready for press! For the beginner or anyone working in mainstream comics. Maybe we'll even go over paper types, printing types, and distribution!
11:00 AM
Room 207A
THE ART OF HORROR
Moderator Jittery JOE RAUCH talks about drawing dreadful stuff while creating exciting, beautiful art with ALISON SAMPSON, PAUL AZACETA, JAMES HARREN, and ANDY BENNETT
11:00 AM
Room 207D
MOTOR CRUSH
Jimmy Aquino (Comic News Insider podcast) sits with MOTOR CRUSH creators BRENDEN FLETCHER, CAMERON STEWART and BABS TARR to talk about their hit sci-fi/action/adventure series from Image Comics! How did they come together for this project? What inspired them? What's it like working on their own creation as opposed to work for hire? When can we expect more?! Come on by this fun and laid back panel to hear them discuss all of this and more.
11:00 AM
Room 208
Capt. America, Agent of SHIELD & STERANKO
Legendary Agent of S.H.I.E.L.D. co-creator JIM STERANKO is interviewed by his partner in crime, award-winning author, J. David Spurlock. Controversial topics include: The true Father of the graphic novel; why Captain America Winter Soldier is dedicated to Steranko who, has been called one of the 10 Toughest Guys in Comics; followed by the Flamingo Bar fight, motorcycles, death-defying escapes, redheads, Marvel, Spielberg and more. Don't you miss it, Pal.
11:30 AM
Room 201/202
SCAD WORKSHOP III: DRAWING DYNAMIC ANATOMY FOR COMICS
Figure drawing is the single most important aspect of visual storytelling in cartooning and comics. Whether you are drawing super stylized images of fantasy characters, crime fiction detectives or superheroes, the ability to communicate through your figures is critical. Professor DOVE MCHARGUE will talk about and show you the different approaches to inventing dynamic figures based in correct anatomy for comics' application through several drawing demos. There will also be a Q and A period at the end
11:30 PM
Room 209/210
ORIGINAL ART COLLECTING
Heroes Con has become one of the preeminent shows for original art collecting. Join Jason Wood of the 11 O'Clock Comics podcast as he leads a discussion about comic art collecting in its many forms. He'll be joined by Felix Lu, Owner of Felix Comic Art (and a renowned collector in his own right) and artist DANIEL WARREN JOHNSON (one of the most in demand commission artists on the planet and also an avid collector) as they lead a collaborative, audience-driven conversation about the world of original art.
12:00 PM
Room 207BC
MARVEL at ART
Jason Wheatley talks art with three of the best around: SANFORD GREENE, NICK BRADSHAW, and WILFREDO TORRES. No hard-sell required for this one.
12:30 PM
Room 203A
THE OWLY HOOTIN'ANNY
It's time for a HOOTIN'anny! Join moderator, Heather Peagler, super Librarian friend, Jennie Law, and OWLY creator, ANDY RUNTON for a fun filled hour of crafts, drawing, and entertainment. This ALL AGES panel will be a good time for the whole family. (Unattended children shall be provided with an egg full of sugar.)
12:30 PM
Room 203B
PRODUCTION DESIGN
ED PISKOR, MICHEL FIFFE, JARED FLETCHER, CHRIS PITZER, JIM RUGG talk with Aaron Kashtan (UNC Charlotte) about the actual book on the shelf. They'll talk about the process, decisions and creativity that goes into making a publication attractive as well as functional.
12:30 PM
Room 207A
COMICS AREN'T REAL
A celebration of the unrealistic things that make comics great, from characters and stories to art styles to specific tools of comics' storytelling. Gregg Schigiel (Pix, SpongeBob Comics) brings together a powerhouse panel for what's sure to be a lively, entertaining discussion that might also be the realest. With: RYAN BROWNE, ALAN DAVIS, ULISES FARINAS, MEGAN LEVENS and JOEY WEISER
12:30 PM
Room 207D
VILLAINS IN POP CULTURE: PSYCHOLOGY OF EVIL
Heroes get to save the day, but villains make stories fun. This panel of psychologists moderated by Dave Verhaagen, Ph.D., Southeast Psych will explore villains across the pop culture landscape. What makes them tick? How do they come to their diabolical worldviews? What are their weaknesses? What makes them so intriguing to audiences? Panelists: Dr. Megan Connell, Dr. Craig Pohlman, Dr. Frank Gaskill, and Michael Critzer
1:00 PM
COSPLAY CLASS PHOTO
Location: Hall C Stage
Join us for our annual "Class Photos" at HeroesCon! The stage cannot hold the hundreds that now show up for this great photo op, so please be on time in order to get sorted to the right group.

1:00 PM
Room 209
JAWS WILL DROP, SIDES WILL ACHE… SUPER WEIRD HEROES! With CRAIG YOE!
A way-fun LOL multimedia show of the kookiest, kraziest, most bizarro leotard-clad bad-guy bashers of the Golden Age of comic books! SEE The Hand: a giant hand! SEE Madam Fatale: the first cross dressing superhero! SEE Kangaroo Man (Batman was taken!) SEE tons more nutty-cool heroes held up to reverence and ridicule! Based on the best-selling book, "Super Weird Heroes" (and its upcoming sequel) the stand-up comedy presentation is by the former Creative Director of the Muppets and now the Eisner-winning editor of IDW/Yoe Books, CRAIG YOE!. 20 laugh-riot cosplay changes in all! DON'T MISS THIS!
1:30 PM
Room 201/202
SCAD WORKSHOP IV "Drawing Costumes from Life"
Rockwell, Leyendecker, and modern contemporaries such as James Gurney, all draw inspirations of their subjects from costumed models. KIT SEATON presents a dynamic drawing session that examines techniques and stylistic choices for designing characters and costumes from observation.
Kit Seaton spent her youth backstage as a theatrical costume designer and director before deciding that she wanted to tell stories in words and pictures. She began creating web comics with playwright George Herman in 2011, and currently working on NORROWAY with sister and writer, Cat Seaton.
2:00 PM
Room 207AB
CONAN the DISCUSSOR
Know O Prince that everyone's favorite cardiologist and REH scholar Scott Valeri will induce conversation so bold Kull himself will emerge from beneath the Hyborean waves to listen in. Doc V is joined by ROY THOMAS, RUDY NEBRES, GEOFF ISHERWOOD, and CARY NORD. This is going to be exciting conversation and yes, there is a doctor in the house.
2:15-3:00 PM
HEROES BOOTH 1408/1410
BABYTEETH #1 HEROES VARIANT SIGNING
DONNY CATES and CHRIS VISIONS will be signing copies of the exclusive HEROESCON special variant of BABYTEETH #1 available only at the HEROES Booth 1408/1410
2:30 PM
Room 207D
A TRIBUTE TO BERNIE WRIGHTSON
THOMAS YEATES, SCOTT HAMPTON, BILL SIENKIEWICZ, JOE JUSKO, and JOHN TOTLEBEN sit down with Joe Rauch to discuss the legendary work and the life of a great artist and friend, BERNIE WRIGHTSON. Join us won't you. Here's to absent friends.
2:30 PM
Room 209
EISNER AND KIRBY AT 100 (THE 2017 MEGA-PANEL)
Which centenary to celebrate, WILL EISNER'S or JACK KIRBY'S? Ben Towle, Jennie Law, and Craig Fischer—the hosts of this year's mega-panel—have foolishly decided to tackle BOTH birthdays.
First is Eisner: Ben will interview HOGAN'S ALLEY publisher TOM HEINTJES, who worked closely with Will at Kitchen Sink Press during the 1980s and '90s, particularly on a monthly column that appeared in Kitchen Sink's comic-book-sized SPIRIT reprints. Expect insights into both Eisner the artist and Eisner the man. Craig will follow by inviting two razor-sharp comics scholars, Drs. DANIEL YEZBICK and ANDREW KUNKA (himself one-half of the COMICS ALTERNATIVE podcast team), to collaborate with the audience on a close reading of an offbeat-yet-representative SPIRIT story.
Then Kirby: Jennie will guide a panel of super-fans—cartoonists JAIME HERNANDEZ, GILBERT HERNANDEZ, and ERIK LARSEN, and Titan Books editor STEVE SAFFEL—through a free-wheeling discussion about King Kirby's groundbreaking career, multiple reinventions, and lasting influence. Finally, Ben will discuss the sheer oddness of Kirby's mid-'70s riff on 2001: A SPACE ODYSSEY—a fitting place to end, since Eisner and Kirby were monoliths that pushed comics to higher evolutionary achievements.
3:00 PM
Room 203A
INSPIRATIONS
Jimmy Aquino (Comic News Insider podcast) moderates a motivational panel on what inspires cartoonists. Come see and hear BRIDGIT CONNELL (Brother Nash), ASHLEY LANNI HOYE, (Aspire), KATA KANE (Altar Girl), and CARA MCGEE (Over the Garden Wall) talk about what inspires them to create. Thoughts on art, music, literature, TV/film, pop culture and more and how it helps them along in their creative endeavors. Come discover some new things to inspire you and maybe even share your own!
3:00-3:45 PM
HEROES BOOTH 1408/1410
DKIII #1 HEROES VARIANT SIGNING
BRIAN STELFREEZE will be signing copies of the exclusive HEROESCON special variant of DK III #1 at the HEROES Booth 1408/1410
3:00 PM
Room 207BC
SOUTHERN BASTARDS
Glorious Bastards is more like it. We've got all the Bastards in one room: JASON LATOUR, JASON AARON, SEBASTIAN GIRNER, JARED FLETCHER, and CHRIS BRUNNER with Jason Wheatley alone to keep them all in line. Good luck.
3:30 PM
Room 201/202
SCAD WORKSHOP V– DYNAMIC CHARACTER DESIGN: The art of using basic shapes to create your own Heroes and Villains!
Have you ever had a great idea for your own amazing superhero or tortured villain, but didn't know where to start when it comes to drawing it all out? In this workshop, we'll explore simple but effective methods to help bring those characters to life using basic shapes like circles, squares, and triangles. We'll also cover quick story creation details to really make those characters unique! Join Professor RASHAD DOUCET (Oni Press, Boom Studios, Lucasarts, Viz Media, and DC Comics' Zuda branch) as he guides you through each step
4:00 PM
Room 203B
SOCIAL MEDIA PRESENCE
Moderator MARISSA LOUISE talks with BABS TARR, KRIS ANKA and JEN BARTEL about how an artist can create a compelling social media presence and maintain it without it taking over your life
4:30 PM
Room 203A
ALL-STAR SQUADRON
One of the great pre- Crisis books of all time. All-Star Squadron was every retro-continuity and Earth 2 fans dream come true. Back Issues Michael Eury sits down with ROY THOMAS, JERRY ORDWAY and ARVELL JONES to discuss this wonderful and influential book. We shall also honor co-creator RICH BUCKLER, yet another absent friend.
4:30 PM
Room 207BC
COSPLAY 101
Thinking about your first cosplay? Don't know where to begin? Our panel of experts can walk you through the basics of where to start, where to go, and how to manage it all without losing your mind (though that part's debatable). Panelists: Mary Cahela, Aaron Riven, Sean Patton, Chris Burns, Miracole Burns
Moderator: DJ Spider
4:30 PM
Room 208
ARTIST'S ARTISTS
We have not had this much artistic talent in one place since the Medici's formed Renaissance Comics back in the 16th Century. Come by and meet GERHARD, ANDREW ROBINSON, PAUL GULACY, and FRANK BRUNNER as they discuss their craft, their careers and their inspirations with Moderators extraordinaire Andy Kunka and Derek Royal from Comics Alternative
5:00 PM
Room 207D
ALBATROSS FUNNYBOOKS
Join Adam Daughhetee from the Dollar Bin as he talks to the minds behind Albatross Funnybooks: ERIC POWELL, LOGAN FAERBER, STEVE MANNION, FABIAN RANGEL JR., and JAKE SMITH
NOTE: Monty Python informs us that this panel does not come with any bloody wafers!!(Sorry, I had to)
5:00 PM
Room 209
JACK KIRBY'S CENTENNIAL CELEBRATION WITH THE KIRBY MUSEUM
Need more Kirby??? Who doesn't? As if you didn't know it, this year is the 100th year since the birth of Jack Kirby! Museum Trustees, RAND HOPPE and TOM KRAFT will discuss and present the Museum's efforts to celebrate, promote and preserve the King's legacy.
5:15-6:00 PM
HEROES BOOTH 1408/1410
MOTOR CRUSH Volume 1 HEROES VARIANT SIGNING
BABS TARR, CAMERON STEWART and BRENDAN FLETCHER will be signing copies of the exclusive HEROESCON special variant of MOTOR CRUSH Volume 1 at the HEROES Booth 1408/1410
6:00 pm CONVENTION FLOOR CLOSES BUT THE ART AUCTION IS NOW OPEN—COME OVER TO THE WESTIN AND SPEND SOME HARD-EARNED SOMOLIANS ON SOME REALLY GREAT ORIGINAL ART
AND AN ADDED TREAT!!!
SPECIAL SHOW FOR ALL ATTENDING THE ART AUCTION:
6:30 PM
WESTIN BALLROOM
ODDBALL COMICS WITH SCOTT SHAW!
Cartoonist SCOTT SHAW! (Captain Carrot and His Amazing Zoo Crew!, Sonic the Hedgehog, Simpsons Comics, Annoying Orange) once again presents ODDBALL COMICS his uniquely hilarious slideshow of "the craziest comic books ever published!" Once you've seen this mind-roasting presentation-which has played to standing-room-only crowds in San Diego for the better part of four decades-you'll never forget such covers as those of the "crotch-centric" issues of Superman's Girl Friend, Lois Lane, those with someone getting slapped with a "fish-in-the-face," and those Silver Age issues of Batman and Detective Comics with "Robin-in-the-corner!" Scott promises, "My hilarious presentation is for everyone who's enjoyed reading a comic book, whether as an avid collector or as a young patient in a dentist's office-in fact, even for people who have never read a single comic book in their life. Even if you've seen my acclaimed slideshow presentation many times before, when you see their covers blown up to the size of the side of a barn, you'll be amazed and delighted at the unbelievable imagery that is revealed! See for yourself why Stan Lee calls Scott's show "the wildest, wackiest exposé of some of the craziest comic books I've ever seen!"
AFTER SCOTT'S PROGRAM, AUCTION BIDDING BEGINS AT 8:00 PM,
CO-HOSTED BY DMC!!!!!!!
SUNDAY JUNE 18
12:00 PM
Room 201/202
SCAD WORKSHOP V—HAND LETTERING & TYPOGRAPHY FOR COMICS
Cartoonist and SCAD professor DAVID ALLEN DUNCAN presents the process of hand-lettering comics! Sick of ugly digital lettering or cruddy handwriting? Good hand-lettering is a sign of professionalism – ask any comics editor. Explore comics lettering techniques and materials in this hands-on workshop. Learn simple tips and tricks for dialog balloons, inflection, sound effects, display lettering, and incorporating typography into your comics. Pick up some of his mini-comics at www.gobnobble.com
12:00 PM
Room 206
MERCHANDISING
With interests in comics and comics' culture reaching new heights, and the convention scene exploding, many of the industry's creators have turned to merchandising their art and ideas to create a broader, more resilient income stream. Join Jason Wood (11 O'Clock Comics podcast) in a discussion with four of the industry's most innovative merchandisers ANDREW MCLEAN, RICO RENZI, JIM MAHFOOD, and SARAH DYER to discuss how they've monetized their artistic efforts beyond the comic book page.
12:00 PM
Room 207BC
ANIMATION
A free-wheeling conversation with animation titans who've worked in television, film, advertising, and more, discussing process, experiences, and exploring the ever changing landscape of the art form. With: TOM BANCROFT, BOB CAMP, SEAN "Cheeks" GALLOWAY, and SCOTT SHAW! Moderated by Gregg Schigiel
12:00 PM
Room 207D
IMAGE NOW
In its 25th year, Image Comics is looking better than ever, Shawn Daughhetee sits down with KYLE STARKS, ALISON SAMPSON, ROB GUILLORY, JIM RUGG, and DONNY CATES to discuss the properties you need to read!
12:00 PM
Room 208
MARVEL TOWN HALL
Sergeant-at-arms Douglas C. (Needermeyer) Merkle publically pounds his gavel at ED BRISSON, MATTHEW ROSENBERG, CHARLES SOULE, and CHIP ZDARSKY, and discusses changes to existing zoning laws, looks into making Wednesday a weekly National Holiday and (if time remains) offer updates on all things MARVEL.
12:00 PM
Room 209/210
THE HERNANDEZ BROTHERS
What do the two guys from Comics Alternative Derek Royal and Andy Kunka have to talk about with JAIME HERNANDEZ and GILBERT HERNANDEZ arguably the two finest and most consistent comics' creators of the last 40 years? Quite a lot actually and if you've never heard The Bros. in conversation, you don't know what you are missing.
1:00 PM
HeroesCon COSPLAY CONTEST
Location: Hall C Stage
Our 5th Annual Cosplay Costume Contest, emceed by DJ Spider.
Advance registration available online or in Hall C. Final registration/check-in from 11-12:30p, with the contest starting promptly at 1pm.
There will be prizes in various divisions for Adults (Masters and Novice), Teens (13-17) and Kids (12 and under). A panel of expert judges will determine the winners
1:15-2:00 PM
HEROES BOOTH 1408/1410
LOVE AND ROCKETS #1 HEROES VARIANT SIGNING
JAIME and GILBERT HERNANDEZ will be signing copies of the exclusive HEROESCON special variant of LOVE AND ROCKETS #1 at the HEROES Booth 1408/1410
1:30 PM
Room 203A
DIY PRESS
Chris Brennaman (www.atlantageekscene.com) talks about the challenges and rewards of self-publishing with a handful of talented entrepreneurs: ALEXIS ZIRITT, ERIC POWELL, ULISES FARINAS, CHRIS PITZER, KAMIKAZEE, and CHARLES FORSMAN
1:30 PM
Room 207BC
LATOUR LIVE DRAW(L)
JASON LATOUR (Southern Bastards, Loose Ends) shows everybody how it's done. Just an artist and his ELMO* (yaaaaaaaaay!) and perhaps some special guest artists.
* –that is the technical name for a fancy- shmancy overhead and is in no way associated with NPB.
1:30 PM
Room 203B
THE BITCH PLANET GAMES
Join KELLY SUE DECONNICK to talk Bitch Planet and take up space — there are actual games here at the Bitch Planet Games. You'll see.
1:30 PM
Room 206
ALLEN BELLMAN!!!!!
Tom Heintjes of HOGAN'S ALLEY sits down with legendary Timely/Marvel artist Allen Bellman (Captain America, Human Torch, Sub-Marnier, Young Allies, Marvel Mystery Comics—wow, it's almost easier to list what he hasn't drawn!)) for a career spanning conversation. Mr. Bellman has done it all, seen it all and most importantly (for us) drawn it all. You don't want to miss the golden opportunity to listen to a legend
1:30 PM
Room 207A
TELLOS!
Join a handful of MIKE WIERINGO'S most notorious pals TODD DEZAGO, CRAIG ROUSSEAU, CASEY JONES, MATT WIERINGO, and RICH CASE as they tell tales on the late legendary artist and discuss his life, his laughter, and his legacy. Oh, and they'll probably talk about the new Mike Wieringo Tellos Tribute too, so you'll wanna be there for that.
1:30 PM
Room 207D
GRAND LARSEN-Y
President of Image Comics (thanks Erik!) and the creator of the monthly Savage Dragon comic (thanks again!) ERIK LARSEN sits down to talk about his career in comics with Heroes Store Manager and persistently annoying and judgmental letter hack Justin Crouse. Erik and his legal team went to great lengths to ease up on the Restraining Order currently issued against Mr. Crouse. Besides being another billable hour for the lawyers, this will be an entertaining and informative conversation.
1:30 PM
Room 208
DMC
Famed hip-hop star DMC sits down to discuss his new comic book along with two of his talented collaborators, AMY CHU and DOMO STANTON. This will be an incredibly entertaining and fascinating hour, make sure you are here!
1:30 PM
Room 209/210
GERHARD: The Man in the Background
Celebrating 30 years of Cerebus the Aardvark! Meet half the team behind one of the most acclaimed graphic narratives of all-time, the master of meticulous detail and stunning surreal backgrounds: GERHARD. Join the artist and Nerdy Show's Cap Blackard for a retrospective on working on Cerebus, illustrative tips and tricks, and other artistic explorations.
2:45-3:15 PM
HEROES BOOTH 1408/1410
DMC #2.5 HEROESCONS VARIANT SIGNING
DMC, AMY CHU and DOMO STANTON will be signing copies of the exclusive HEROESCON special variant of DMC #2.5 at the HEROES BOOTH 1408/1410
2:30 PM
Room 201/202
SCAD WORKSHOP VII– Social Advocacy in Comics
How do you make a difference in the world when you just draw silly comics? Comic artists don't do that, comic artists don't even sell comics, right? Wrong, shut up, go away, and no actually stay, because you can join comic artist, SCAD graduate student, and dollar-store-knight, JORDAN SCRIBNER (currently a freelance comic and illustration artist working primarily on his graphic novel, Batphish.) as he shows you how powerful comics can be when used to influence cultural change.
Come look at a rich history as comics as social advocates in racial, economic, and sexual issues while learning how to guide responsible and positive change with your art. Your voice is important and your art matters!
3:00 PM
Room 203A
Spotlight on BEN TEMPLESMITH
Jimmy Aquino (Comic News Insider podcast) sits down with BEN TEMPLESMITH to discuss his illustrious career illustrating illustrations! They'll chat about old work, new work and upcoming work. From 30 Days of Night to Wormwood to Fell. With some Batman and Doctor Who as well! How did he develop his unique style? What inspires him? Come listen, learn and maybe even love! Hail, Squid!
3:00 PM
Room 206
COMICS CANON—BOOKS ABOUT COMICS
Last year, we argued for over two hours about the need for a Comics Canon and what comics and creators belong. We got nowhere and it was a blast. This year we are tackling Books ABOUT COMICS. What are the ESSENTIAL—Historical Anthologies, Biographies, Analytical Essays, Histories, How-to, BOOKS on the subject of COMICS? Join moderator Tom Spurgeon (The Comics Reporter) and our resident brain trust: CRAIG FISCHER (Appalachian State) NATHAN FOX (SVA) DANIEL YEZBICK (St. Louis CC), AARON KASHTAN (UNC Charlotte) and MICHAEL KOBRE (Queens). AUDIENCE PARTICIPATION IS A MUST!!! This is a GREAT way to end a weekend filled with Comics love!
3:00 PM
Room 207A
MORE COLOR COMMENTARY
Boy, that first panel FLEW by, didn't it? If you wanted to hear even more comics color talk, didn't get a chance to have your question answered, or simply weren't able to make the first session — fear not! Moderator Greg Matiasevich (Multiversity Comics) has lined up colorists NOLAN WOODARD, LAUREN AFFE, JORDAN BOYD, TAMRA BONVILLAIN, and DANIEL VOZZO for this follow-up panel on the theory and practice of coloring comics in today's industry.
3:00 PM
Room 208
MODERN MASTERS
Modern Masters Series Editor Eric Nolen-Weathington sits down with three of his most talented and popular subjects all at one: JERRY ORDWAY, ALAN DAVIS, and LEE WEEKS. Call the sitter and tell them you can't leave until this panel has finished!
3:00 PM
Room 209
THE ANNUAL INKING PANEL
Terence Hoskins (and Brandon Padgett) have outdone themselves this year. JOE RUBENSTEIN, JOHN TOTLEBEN, DEXTER VINES, KARL STORY, JOHN BEATTY, and JOHN GLAPION talkin' and thinkin' about nothin' but Inkin'!!!! Not a flesh colored thumb in the room!
3:30-4:15 PM
HEROES BOOTH 1408/1410
TELLOS TRIBUTE VOLUME 1 HEROES SIGNING
TODD DEZAGO, CRAIG ROUSSEAU, CASEY JONES, MATT WIERINGO, and RICH CASE will be signing copies of the MIKE WIERINGO TRIBUTE: TELLOS VOLUME 1 available at the HEROES Booth 1408/1410

6:00 PM CONVENTION ENDS—SO BE UNCONVENTIONAL!!!!
"Convention people are roused to fury by departure from conventions, largely because they regard such departure as a criticism of themselves."
Bertrand Russell (sort of)
SO FEEL BETTER ABOUT YOURSELF BY ATTENDING NEXT YEAR JUNE 15-17, 2018
RSVP on the Facebook event page!
For the most up-to-date information, check our blog, or sign up for the weekly Heroes Hotline newsletter. You can also follow us on Twitter and Facebook!
BUYING AN ADVANCE PASS MEANS YOU'LL GET ANY ADVANCE INCENTIVES WE OFFER, FREE!
ENTRY WILL BE $25: FRI $25: SAT $20: SUN / AT THE SHOW ITSELF, SO YOU SAVE AS MUCH AS $20 BY PURCHASING ADVANCE PASSES TODAY! TICKETS ARE NOT REFUNDABLE, UNDER CERTAIN CIRCUMSTANCES WE MAY CREDIT AN UNUSABLE TICKET TOWARD FUTURE TICKET PURCHASES.
HEROES CONVENTION was founded in 1982 by Shelton Drum, owner of Charlotte's Heroes Aren't Hard To Find comics shop. Since then the convention has become famous for its comics-first and family-friendly atmosphere, where fans can mingle directly with professionals and exhibitors. Boasting an incredible guest list built mainly on reputation and goodwill, HeroesCon is known nationwide as a "must" on the summer schedule, drawing fans, exhibitors, and creators from all over the world to the Charlotte Convention Center.