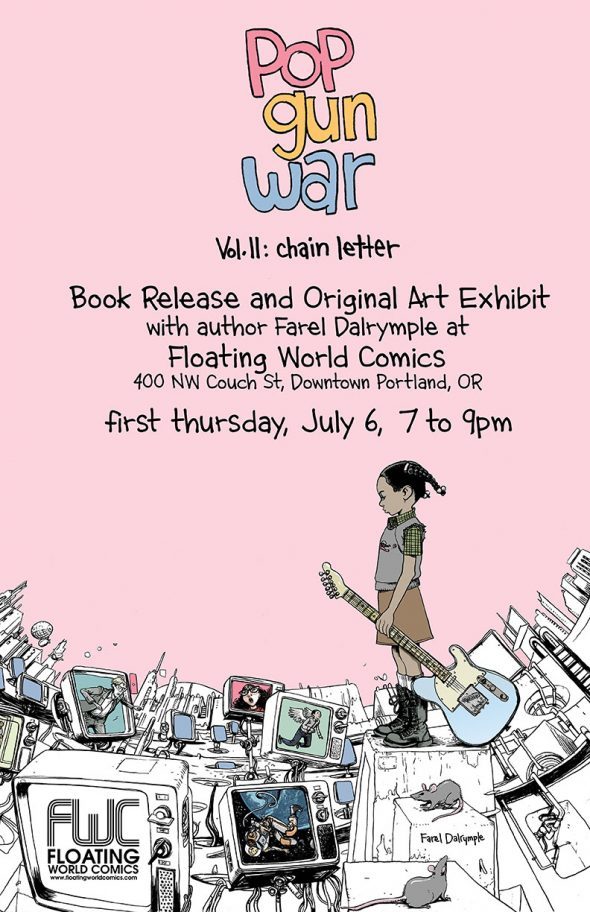 Farel Dalrymple appears at Floating World Comics for a book release party and art exhibit for POP GUN WAR: CHAIN LETTER on Thursday July 6th from 7:00 – 9:00 PM.
Press Release:
Stuck in a small town with a broken-down van, Emily goes on a walk. After following some shady characters through subterranean tunnels, she discovers three video monitors showing stories from a magical present, dreamy past, and strange future.
In this long-awaited sequel to the award-winning and critically acclaimed graphic novel POP GUN WAR: GIFT, author and creator of The Wrenchies, FAREL DALRYMPLE, revisits his world of surreal urban fantasy.
Farel Dalrymple is a cartoonist. His book, The Wrenchies, from First Second Books is an original 304-page watercolor comic book/graphic novel. Farel's Eisner nominated webcomic, IT WILL ALL HURT is completed and out in three comics book issues from Studygroup comics. Delusional, (Adhouse, 2013) is a collection of personal work, comic short stories, illustrations, and sketches. Farel was also the artist on Omega the Unknown (Marvel Comics 2010), with writer Jonathan Lethem. His creator owned comic book, Pop Gun War was a Xeric Grant recipient and won a gold medal from The Society of Illustrators. Farel is a co-founder of the comic anthology, Meathaus and has worked on a several Illustration and cartooning projects.
Floating World Comics
400 NW Couch Street, Portland, OR 97209
(503) 241-0227