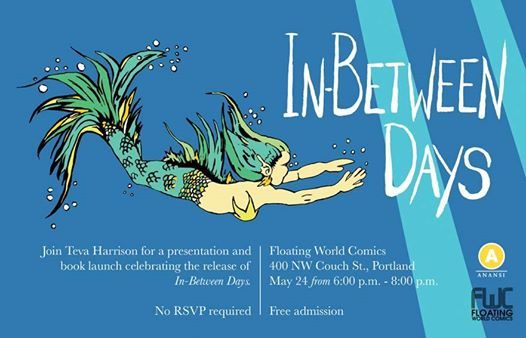 Cartoonist Teva Harrison appears at Floating World Comics on Wednesday, May 24th at 6:00 PM.
Teva Harrison was diagnosed with metastatic breast cancer at the age of 37. In this brilliant and inspiring graphic memoir, she documents through comic illustration and short personal essays what it means to live with the disease. She confronts with heartbreaking honesty the crises of identity that cancer brings: a lifelong vegetarian, Teva agrees to use experimental drugs that have been tested on animals. She struggles to reconcile her long-term goals with an uncertain future, balancing the innate sadness of cancer with everyday acts of hope and wonder. She also examines those quiet moments of helplessness and loving with her husband, her family, and her friends, while they all adjust to the new normal.
Ultimately, In-Between Days is redemptive and uplifting, reminding each one of us of how beautiful life is, and what a gift.
TEVA HARRISON is an artist, writer and cartoonist.
She is the author of the bestselling, critically-acclaimed hybrid graphic memoir, In-Between Days, published by House of Anansi Press. The book was shortlisted for the Governor General's Literary Award for Non-Fiction.
Teva is a Canadian Magazine Award and National Magazine Award finalist whose writing and/or comics have appeared in The Walrus, Quill & Quire, Huffington Post, Carte Blanche, The Humber Literary Review, and The Globe and Mail, and more. She has commented many times on CBC Radio, in the Toronto Star, The Globe and Mail, and has appeared on Canada AM, The Agenda with Steve Paikin, Space TV's InnerSpace, The Morning Show, in Maclean's, Chatelaine, Rabble, and Quill & Quire.
Born and raised in rural Oregon, Teva currently lives in Toronto with her beloved husband.
Floating World Comics
400 NW Couch Street, Portland, OR 97209
(503) 241-0227