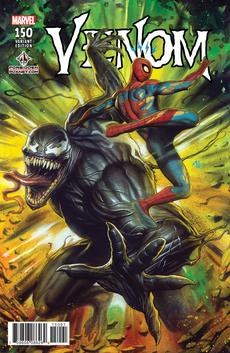 Artist Tradd Moore appears at Forbidden Planet's London Megastore on Saturday 27th May from 4:00 – 5:00 PM to sign their exclusive variant cover of Marvel's VENOM #150!
REUNITED, AND IT FEELS SO GOOD!
Or, feels so bad? However it feels, Eddie Brock and the Venom symbiote have been reunited, and they're web-slinging their way around New York again. Featuring a host (hah!) of Venom creators from the character's near 30-year history, this monstrous anniversary spectacular welcomes guest artist TRADD MOORE for an oversized and brutal main story AND a lethal story featuring fan-favourite creators David Michelinie and Ron Lim, reunited! With questions still lingering about how the symbiote was separated from Flash Thompson, and what lies in its future now that it's reunited with Eddie Brock, this is one issue you can't afford to miss!
TRADD MOORE is an American artist, best known for his fantastic Luther Strode artwork. He's worked on a huge range of titles from Ghost Rider and Deadpool to Secret Avengers and Civil War.
Don't miss this chance to grab your copy of our exclusive Adi Granov variant!
Forbidden Planet London Megastore
179 Shaftesbury Avenue, London, WC2H 8JR
0207 420 3666