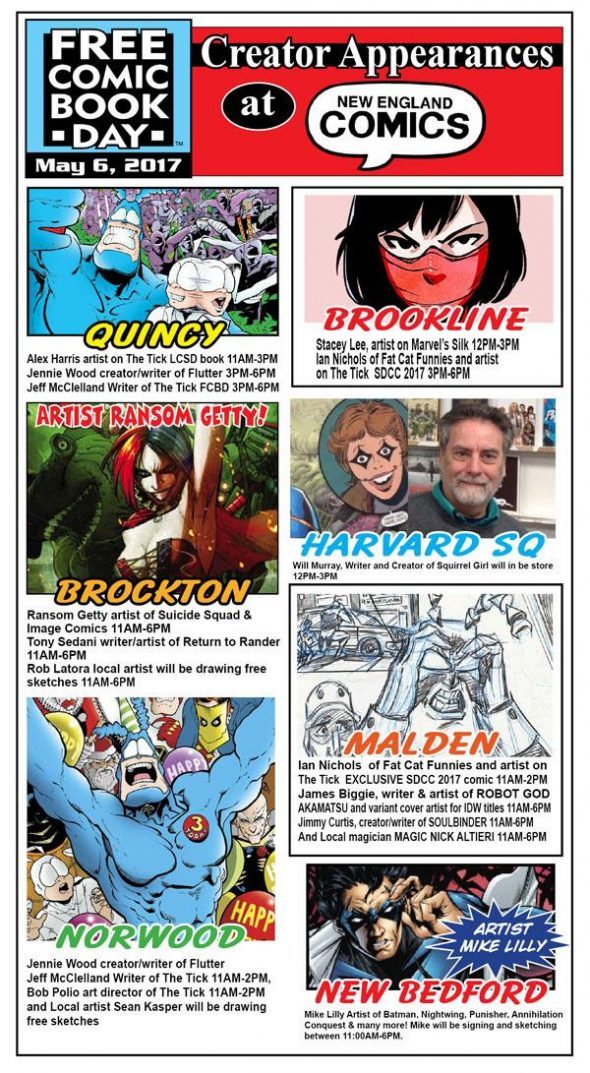 New England Comics celebrates Free Comic Book Day on Saturday May 6, 2017 at every NEC location! Free Comics! Guests! Fun!
NEC QUINCY:
Alex Harris – Sketches – Tick LCSD (til 3:00)
Jennie Wood and Jeff McClelland (2nd half)
NEC BROCKTON:
Ransom Getty artist on Suicide Squad
Rob Latora – Sketches
Tony Sedani – Sketches, Return to Randar
NEC NORWOOD:
Sean Kasper
Bob Polio
Jennie Wood and Jeff McClelland (1st half)
NEC MALDEN:
Ian Nichols (11:00-2:00)
Jimmy Curtis, creator and writer of the comic book SOULBINDER will be appearing in store.
James Biggie, writer of the original graphic novel ROBOT GOD AKAMATSU and variant cover artist for the IDW titles GI JOE, TRANSFORMERS, ARCHANGEL will be here as well.
Local magician MAGIC NICK ALTIERI will also be appearing in store.
NEC NEW BEDFORD:
Artist Mike Lilly (Annihilation, Nightwing, Detective Comics)
NEC COOLIDGE CORNER:
Stacey Lee artist on Marvel's SILK (12:00-3:00)
Ian Nichols Fat Cat Funnies, The Tick (3:30-6:00)
NEC HARVARD SQUARE:
Will Murray co-creator of Squirrel Girl  (12:00-3:00)