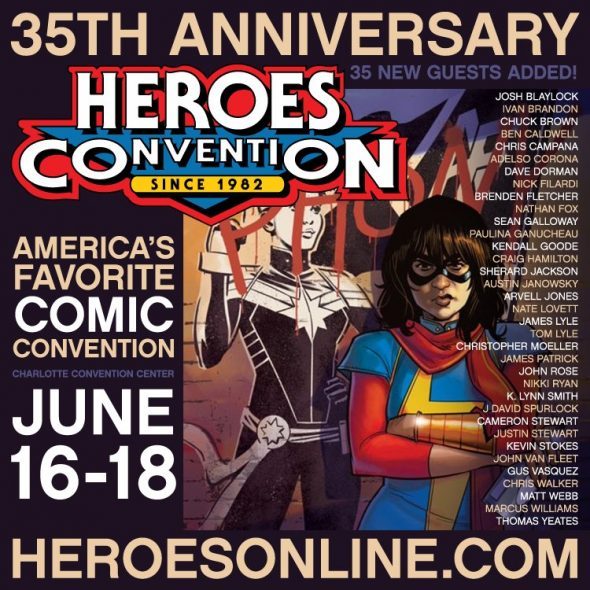 HeroesCon has announced more new guests for their 35th anniversary show including Ben Caldwell, Brenden Fletcher, Cameron Stewart, Craig Hamilton, Dave Dorman, Ivan Brandon, Paulina Ganucheau, Sean Galloway, Thomas Yeates, and more! HeroesCon 2017 takes place June 16-18, 2017 at the Charlotte Convention Center.
JOSH BLAYLOCK | Devil's Due, Mercy Sparx
IVAN BRANDON | Black Cloud, Drifter, Viking
CHUCK BROWN | Choosing Sides, BitterRoot, Femme Magnifique
BEN CALDWELL | Prez, A-Force, Wonder Woman, Harley Quinn, Dare Detectives
CHRIS CAMPANA | First World
ADELSO CORONA | Deadpool Corps, Hawk & Dove, Brigade
DAVE DORMAN | Star Wars, Aliens, The Wasted Lands
NICK FILARDI | Powers, Heartthrob, Cave Carson, Helheim
BRENDEN FLETCHER | Motor Crush, Batgirl, Gotham Academy, Power Rangers: Pink
NATHAN FOX | Vertigo SFX, Captain Victory, Dogs of War, Haunt, DMZ
SEAN GALLOWAY | Spectacular Spider-Man: Lead Character Designer, Teen Titans Go!, Superman
PAULINA GANUCHEAU | Zodiac Starforce, Another Castle, Gwenpool
KENDALL GOODE | The Doorman
CRAIG HAMILTON | Aquaman, Starman, Fables, The Spectre
SHERARD JACKSON | Galaxies For Hire, Empty Zone, Minirauders
AUSTIN JANOWSKY | Iron Man: The End, Satellite Falling, Red Sonja, Divine Retribution
ARVELL JONES | All-Star Squadron, Iron Fist, Deathlok, Thor, Iron Man, Luke Cage
NATE LOVETT | Champions of Odd Lake, Kyraa: Alien Jungle Girl, Paw Patrol, Rusty Rivets
JAMES LYLE | Grimm Fairy Tales, Game of Horror, Abraham's Journey
TOM LYLE | Spider-Man, Robin, Punisher, Batman
CHRISTOPHER MOELLER | Lucifer, Iron Empires, Magic: The Gathering
JAMES PATRICK | Batman, Harley Quinn, Green Arrow
JOHN ROSE | Snuffy Smith
NIKKI RYAN | The Family Trade
K LYNN SMITH | Plume
J. DAVID SPURLOCK | Vanguard Publishing
CAMERON STEWART | Motor Crush, Batgirl, Fight Club 2, Seaguy, The Other Side
JUSTIN STEWART | Kentucky Kaiju, Grrl Scouts: Magic Socks, Howard the Human
KEVIN STOKES | Pathfinder, Deadman, Tiger Style, Jimmy Olsen, Splitsville
JOHN VAN FLEET | Batman, Typhoid, The X-Files
GUS VASQUEZ | Big Hero 6, Suicide Squad, The Flash
CHRIS WALKER | Publisher Arena Comics, Tiger Style, Splitsville, Raptor
MATT WEBB | Flesh and Blood, Next Men, Hawkman, Star Trek
MARCUS WILLIAMS | Tuskegee Heirs: Flames of Destiny
THOMAS YEATES | Tarzan, Prince Valiant, Zorro, Conan

RSVP on the Facebook event page!
For the most up-to-date information, check our blog, or sign up for the weekly Heroes Hotline newsletter. You can also follow us on Twitter and Facebook!
BUYING AN ADVANCE PASS MEANS YOU'LL GET ANY ADVANCE INCENTIVES WE OFFER, FREE!
ENTRY WILL BE $25: FRI $25: SAT $20: SUN / AT THE SHOW ITSELF, SO YOU SAVE AS MUCH AS $20 BY PURCHASING ADVANCE PASSES TODAY! TICKETS ARE NOT REFUNDABLE, UNDER CERTAIN CIRCUMSTANCES WE MAY CREDIT AN UNUSABLE TICKET TOWARD FUTURE TICKET PURCHASES.
HEROES CONVENTION was founded in 1982 by Shelton Drum, owner of Charlotte's Heroes Aren't Hard To Find comics shop. Since then the convention has become famous for its comics-first and family-friendly atmosphere, where fans can mingle directly with professionals and exhibitors. Boasting an incredible guest list built mainly on reputation and goodwill, HeroesCon is known nationwide as a "must" on the summer schedule, drawing fans, exhibitors, and creators from all over the world to the Charlotte Convention Center.