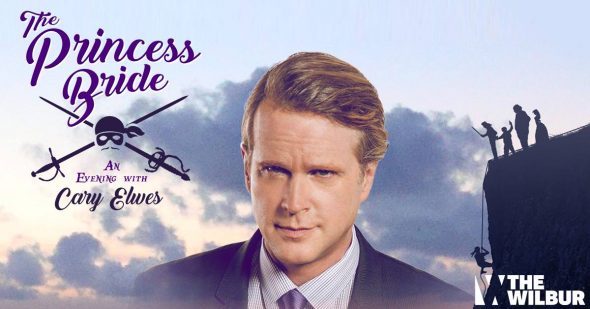 Actor Cary Elwes appears at the Wilbur Theatre on Friday, May 19, 2017 at 7:30 PM for a screening of The Princess Bride followed by a Q&A. Tickets available here…
Known for playing Westley in Rob Reiner's iconic The Princess Bride, Cary Elwes has enjoyed a successful career in film, and has most recently taken on the role of author.
Elwes can be seen in the second season of Sony Crackle's "The Art of More."He stars on the show opposite Dennis Quaid, Kate Bosworth and Christian Cooke. Cary also recently filmed a lead in the feature film THE FIRST directed by Jennifer DeLia.
His memoir As You Wish: Inconceivable Tales from the Making of The Princess Bride became a New York Times Bestseller. The paperback edition of the book was released on November 4th. He can be seen in The Billionaire Boys Club opposite Ansel Elgort, Emma Roberts, Taron Egerton and Kevin Spacey. Written and directed by James Cox, the film follows a group of wealthy boys in Los Angeles during the early 1980s who establish a "get rich quick"scam that turns deadly. He can also be seen in The Queen of Spain opposite Penelope Cruz, which was released November 25th in Spain, Sugar Mountain with Jason Momoa and Anna Hutchison and We Don't Belong Here alongside Catherine Keener and Anton Yelchin. Other film appearances include director Rob Reiner's Being Charlie, which bowed at the 2015 Toronto International Film Festival to rave reviews.
He also recently produced and wrote Elvis Nixon which starred Kevin Spacey and Michael Shannon which was released by Bleeker Street. Elwes is also known for his roles in Academy Award winning films Glory, Days of Thunder and Bram Stoker's Dracula, box-office hits Hot Shots!, Twister, Liar Liar and Saw, and the cult classic Robin Hood: Men In Tights. He has also played popular recurring roles in Golden Globe© and Emmy Award© winning television series "The X-Files," and the highly rated comedy series "Psych." Other TV credits include "Seinfeld" and the critically acclaimed miniseries "From the Earth to the Moon," "Uprising," "The Riverman" and "Pope John Paul II." A native of London, Elwes currently resides in Los Angeles in with his family.
Wilbur Theatre
246 Tremont Street, Boston, MA 02116
(617) 248-9700