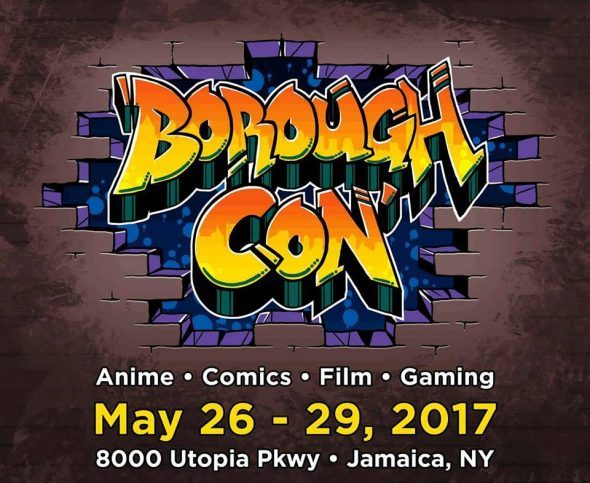 Press Release:
Superhero, animation and gaming fans will soon converge on Utopia Parkway for a four-day celebration in a park-like setting.
St. John's University will host BoroughCon, a new pop culture convention, over Memorial Day Weekend 2017, May 26-May 29. The event, which is expected to draw up to 20,000 attendees, will appeal to enthusiasts of heroic stories in film, television, gaming and graphic formats, as well as to those who enjoy anime and manga –animation and comics, respectively, in the Japanese tradition.
BoroughCon programming will include panels and autograph sessions with celebrities, gaming tournaments, screenings of both classic and as-yet unreleased films and TV shows, a vendors' room and an artists' alley. In addition to special programming for youth and children as well as their parents and grandparents, there will also be a cosplay competition.
"Cosplay is the performance art of creating costumes based on your favorite media characters, then embodying those characters for the audience," BoroughCon CEO Matthew Goodison-Orr explains. "It has become a staple of these conventions, and cosplay is always one of the most popular draws."
Media guests are currently being announced on BoroughCon.com and Goodison-Orr says, "BoroughCon will be able to deliver at least a couple of household names, as well as several actors well-known to everyone from all walks of life within the nerd community."
Current guests include:
•    Sean Astin (Lord of the Rings, The Goonies)
•    Khary Payton (The Walking Dead, Young Justice, Teen Titans)
•    Dante Basco (Hook, American Dragon: Jake Long)
•    Steven Blum (animated voice of Wolverine, record holder for most video game credits)
•    Cree Summer (Codename: Kids Next Door, Inspector Gadget)
•    Jess Harnell (Crash Bandicoot, Animaniacs)
•    Grey DeLisle (Scooby-Doo, Avatar: The Last Airbender)
•    Mary Elizabeth McGlynn (Star Wars: Rebels, Ghost in the Shell)
•    Chester Rushing (Stranger Things)
•    Johnny Brennan (Jerky Boys, Family Guy)
•    Grizz Chapman (30 Rock, The Lair)
The nerd community, he said, includes fans of comic books, manga, gaming, and science fiction/fantasy movies and television shows—and a great many self-professed nerds live in underserved neighborhoods of Queens, Brooklyn, the Bronx and Staten Island. Comic creators appearing include Marv Wolfman (Teen Titans), Mike Grell (Green Arrow, Jon Sable), Tony Bedard (Supergirl, Birds of Prey)  Mark McKenna (Combat Jacks, Exiles).
"Surprisingly, New York City and the surrounding area runs short of adequate event space despite the world-class sports and concert venues," says Goodison-Orr, who, when he served three years as CEO of Orlando's KnightroKon, catered to up to 40,000 fans a year. "None of the hotels have anywhere enough meeting space for a convention of BoroughCon's size, and the Javits Center is already home to New York Comic Con, with which we have no desire to invite comparison. So my partners and I chose to focus on the Four Boroughs, and St. John's became the clear choice."
The decision to embrace the outer boroughs required very little persuasion.
"Queens has roughly the same population as Houston, and Brooklyn is almost the size of Chicago. Both those middle-American cities host multiple 'cons' annually. So why would we want to be the second-biggest-by-a-mile in Manhattan when we can build something new and different here?"
What will set BoroughCon apart, according to Goodison-Orr, is the degree to which fans will enjoy direct access to well-known guests.
"If you come to BoroughCon, you'll get a chance to meet, shake hands with or get an autograph from someone whose work you admire," he said. "BoroughCon will be for regular fans – the con for the rest of us."
For up-to-date information, visit boroughcon.com.