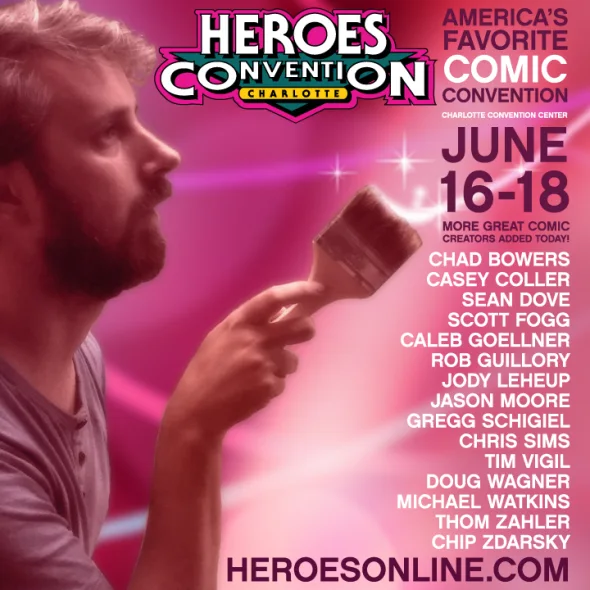 HeroesCon has announced more new guests for their 35th anniversary show including Chip Zdarsky, Caleb Goellner, Rob Guillory, Jody LeHeup, Jason Moore, Gregg Schigiel, Chris Sims, Tim Vigil, Thom Zahler, and more! HeroesCon 2017 takes place June 16-18, 2017 at the Charlotte Convention Center.
CHAD BOWERS | Youngblood, X-Men '92, Down Set Fight!
CASEY COLLER | Transformers
SEAN DOVE | Brobots and the Kaiju Kerfuffle!, The Last Days of Danger, Madballs
SCOTT FOGG | Phileas Reid Knows We Are Not Alone, Action Lab: Dog of Wonder
CALEB GOELLNER | Task Force Rad Squad, Teenage Mutant Ninja Turtles, Mermaid: Evolution
ROB GUILLORY | Chew, Thor
JODY LEHEUP | Shirtless Bear-Fighter
JASON MOORE | Spook House, Batman Haunted Gotham, The Crusades, Evil Ernie Destroyer
GREGG SCHIGIEL | Pix, SpongeBob Comics, Stuff Said Podcast
CHRIS SIMS | X-Men '92, Down Set Fight!, Swordquest
TIM VIGIL | Faust, EO, Webwitch, Frank Frazetta's Dark Kingdom
DOUG WAGNER | Plastic, The Hard Place, Legends of the Dark Knight, The Ride
MICHAEL WATKINS | Villains Supreme, Femme Noir, Transformers, Sonic The Hedgehog
THOM ZAHLER | Love and Capes, My Little Pony
CHIP ZDARSKY | Sex Criminals, Star Lord, Howard The Duck, Jughead, Spider-Man

RSVP on the Facebook event page!
For the most up-to-date information, check our blog, or sign up for the weekly Heroes Hotline newsletter. You can also follow us on Twitter and Facebook!
BUYING AN ADVANCE PASS MEANS YOU'LL GET ANY ADVANCE INCENTIVES WE OFFER, FREE!
ENTRY WILL BE $25: FRI $25: SAT $20: SUN / AT THE SHOW ITSELF, SO YOU SAVE AS MUCH AS $20 BY PURCHASING ADVANCE PASSES TODAY! TICKETS ARE NOT REFUNDABLE, UNDER CERTAIN CIRCUMSTANCES WE MAY CREDIT AN UNUSABLE TICKET TOWARD FUTURE TICKET PURCHASES.
HEROES CONVENTION was founded in 1982 by Shelton Drum, owner of Charlotte's Heroes Aren't Hard To Find comics shop. Since then the convention has become famous for its comics-first and family-friendly atmosphere, where fans can mingle directly with professionals and exhibitors. Boasting an incredible guest list built mainly on reputation and goodwill, HeroesCon is known nationwide as a "must" on the summer schedule, drawing fans, exhibitors, and creators from all over the world to the Charlotte Convention Center.