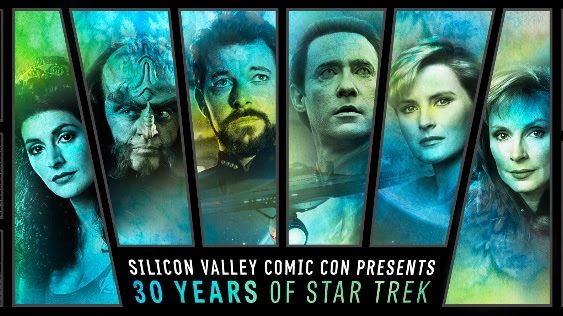 Press Release:
To celebrate the 30th anniversary of "Star Trek: The Next Generation," Silicon Valley Comic Con will host a special ticketed event "Star Trek: The Next Generation 30th Anniversary Reunion" hosted by William Shatner and featuring Jonathan Frakes (Commander Riker), Marina Sirtis (Counselor Troi), Brent Spiner (Lt. Commander Data), Gates McFadden (Dr. Crusher), Denise Crosby (Lt. Tasha Yar / Commander Sela), and Robert O'Reilly (Gowron). Tickets are on sale NOW!
There will be TWO ticket levels available: Captain's Chair and Bridge Pass. You WILL NOT need to have a SVCC pass to have access to this event. If you've already purchased a VIP pass to SVCC – you will receive special benefits for this event.
CAPTAIN'S CHAIR $40
VIP experience: premium seating will be roped off for VIPs, so reserve a seat and skip the line! Receive early access to the room an hour in advance to scout out and reserve seats outside the VIP area if desired. Dedicated VIP line for easy access to the room.
BRIDGE PASS $10
General admission to the Star Trek: The Next Generation 30th anniversary panel. Open seating for general admission. Doors open at 6pm, panel starts at 6:30pm.
With Apple co-founder Steve Wozniak at the helm, Silicon Valley Comic Con celebrates the Age of the Geek by bringing together America's two greatest superheroes: pop culture and technology. Featuring top celebrities, tech innovators, comics, scientists, independent artists, cosplay, video games, virtual reality, consumer electronics, music, apps and more, Silicon Valley Comic Con is where the entertainment and technology worlds intersect. Silicon Valley Comic Con 2017 will take place April 21-23, 2017 at the San Jose McEnery Convention Center and surrounding downtown San Jose locations.
For further information please go to the website: www.svcomiccon.com