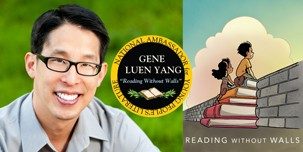 Gene Luen Yang, co-author of the newly released SECRETS AND SEQUENCES: SECRET CODERS, comes to Print: A Bookstore as part of his "Reading Without Walls" tour on Friday, April 7, 2017 at 7:00 PM!
Initiated as a pilot program at the time Gene Luen Yang was appointed National Ambassador of Young People's Literature, "Reading Without Walls," a program to expand the range of books that children read, will launch and become an annual event beginning in April. The program will promote diversity and open readers' eyes to new ideas and experiences. In this divided time in our nation's history, "Reading Without Walls" is an inclusive way to spread appreciation and understanding for others — and to learn new and exciting things. In addition to speaking about this terrific new program, Mr. Yang will sign copies of his latest book in the "Secret Coders series," SECRETS AND SEQUENCES!
About Gene Yang:
Gene Yang is the cartoonist behind books including the Printz-Award-winning American Born Chinese, as well as Boxers & Saints, The Eternal Smile, Prime Baby, and Animal Crackers. He is the co-creator of The Shadow Hero with Sonny Liew, and Secret Coders with Mike Holmes, and has written for the hit comics Avatar: The Last Airbender and Superman. Gene Yang lives in the San Francisco Bay Area.
Print: A Bookstore
273 Congress Street, Portland, ME 04101
(207) 536-4778