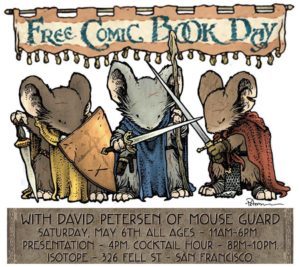 Press Release:
Isotope proudly presents David Petersen, author-artist the the insanely popular MOUSE GUARD series on Saturday May 6, 2017!
Free Comic Book Day is an annual event at comic shops the planet over. And here at the Isotope our FCBD celebrations are the stuff of legend. As is tradition, we will once again be serving up San Francisco's most glorious and massive smorgasboard of absolutely free comic reads for comic lovin' kids of all ages. And this year is sure to be our best yet!
Each year during this annual event Mister Petersen wows the masses with the very best book on offer and this year will follow that grand tradition! An all-new MOUSE GUARD story is the jewel in the 2017 FCBD crown, with an original coming-of-age story about a pair of young furs who learn a valuable lesson from a grizzled guardmouse on what it truly means to be a hunter, featured in the BOOM! STUDIOS FCBD SUMMER BLAST. We couldn't be more honored to have him in!
This years' festivities will include an all-ages day-long autographing session from 11am until 4pm and also a live slideshow presentation by Mister Petersen himself at 4pm. Afterwards there may be some additional signing and 1-on-1 time with fans. And for the over-21 set we will have a casual, short cocktail hour from 8pm until 10pm.
Mister Petersen will be signing all of his amazing MOUSE GUARD comics for you, his WIND IN THE WILLOWS hardcover, as well as other cool MOUSE GUARD things like the amazing MOUSE GUARD ROLE PLAYING GAME.
This day-long celebration also features San Francisco's very own DJ BEARZBUB, spinning his favorite blend of exotic b-sides, booty shaking nöise, and rare beats to keep your Free Comic Day shopping grooving. We love the Bearzbub!
Also returning on staff for the day will be the amazing Katie Longua author/artist of MUNCHIES, KNOW YOURSELF ANATOMY ADVENTURE SERIES, and the chiptunes LP comic HER SPACE OPERA. Josh Richardson author of Scholastic Books' RATCHET & CLANK: OFFICIAL GUIDE BOOK. And also our latest beloved staff addition, Kate Mattingly of the Miradori Tumblr.
With such a great day lined up, and our commitment to the most generous, no-limit, can't-find-anywhere-else explosion of free reads in SF, we do ask that you keep in mind that here at the Isotope we believe Free Comic Book Day is all about the kids, and even the mighty Isotope's supplies are limited, so before you over-indulge yourselves, remember… every free comic you scoop up is one the kids can't. So please be nice to the kiddos. Thanks in advance.
And… knowing the popularity of Mister Petersen and also our FCBD extravaganzas we know some folks will want to come in from out of town to attend this event. So the Isotope will be partnering with a couple of our favorite nearby San Francisco hotels to make your stay here in San Francisco a great one. We will be posting these accommodations information in the next couple weeks.
Isotope – The Comic Book Lounge
326 Fell Street, San Francisco, CA 94102
(415) 621-6543