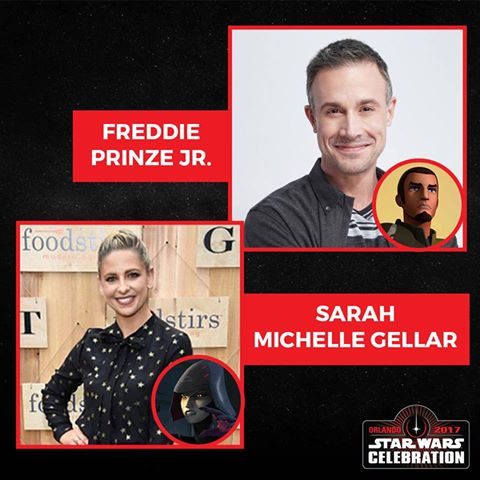 Freddie Prinze Jr. (the voice of Kanan Jarrus) and Sarah Michelle Gellar (the voice of the Seventh Sister), will be at Star Wars Celebration! For tickets and further information please go to the website: www.starwarscelebration.com
Freddie Prinze Jr.: Kanan, Star Wars: Rebels
As one of the faces of the 1990s, Freddie rose to fame starring in such movies as She's All That, I Know What You Did Last Summer, and the sequel I Still Know What You Did Last Summer. He later starred in the Scooby Doo franchise and Summer Catch opposite Jessica Biel.
In 2005 Freddie created and starred in a sitcom for ABC based on his own life, and aptly named Freddie.
Post-Freddie, Prinze has guest starred on programs like Psych, Boston Legal, and The George Lopez Show.
In 2010 Freddie joined the cast of 24 for its final season as "Agent Cole Ortiz," CTU's New York Director of Operations. His memorable arc found him playing both sides as he navigated a complex relationship with "Dana Walsh" (Katee Sackhoff) while serving in the field alongside Kiefer Sutherland's "Jack Bauer" as they fight to protect New York from terrorists.
In 2016 Freddie was the host for USA's First Impressions with Dana Carvey and released his first cookbook Back in the Kitchen in June. Currently, Freddie voices the Jedi character Kanan in the animated series Star Wars Rebels, which airs on Disney XD.
Also an active writer and producer, Freddie lives in Los Angeles with his wife Sarah Michelle Gellar.
Sarah Michelle Gellar: Seventh Sister, Star Wars: Rebels
Determined and accomplished are two words that best describe Golden Globe nominee and Emmy winner Sarah Michelle Gellar. Beginning her career as a child actress, Gellar has remained a leader on the road of success.  A veteran of television, theater and the big screen, Gellar's list of credits are long, which has helped her build and maintain her status in the industry.
Gellar is well known for her work on the small screen including CBS' The Crazy Ones opposite Robin Williams, her role as the iconic Buffy the Vampire Slayer, CW's Ringer and ABC's All My Children. Gellar is also the voice of the Seventh Sister 'Inquisitor' on Disney XD's popular Star Wars Rebels.
Gellar's film credits include Das Films' Veronika Decides To Die, The Yari Film Group's Possession, The Air I Breathe, Southland Tales, The Grudge, The Grudge 2, Scooby Doo and Scooby Doo: Monsters Unleashed, I Know What You Did Last Summer, Scream 2, Cruel Intentions, and Harvard Man. In 2009 Gellar starred and served as the executive producer in the HBO TV movie The Wonderful Maladys. 
No stranger to the world of voice over, Gellar lent her voice in Lionsgate's Happily N'Ever After, Adult Swim's Robot Chicken, Fox's The Simpsons and American Dad, and Warner Brothers Teenage Mutant Ninja Turtles.
Gellar recently stepped into a new role, entrepreneur, launching Foodstirs in along with Galit Laibow, and Greg Fleishman. Foodstirs is a culinary lifestyle brand that offers convenient, delicious and healthier ways to bring families together in the kitchen.  From creative baking kits to premium signature quick-scratch baking mixes Foodstirs inspires creativity and curiosity, while emphasizing the importance of a healthier lifestyle. All ingredients are crafted perfectly for a homemade taste using premium, non-gmo ingredients, free of preservatives, artificial dyes and flavors.
Gellar also lends her time and support to child and hunger organizations as an advocate and activist. She works closely with No Kid Hungry and Good+ as well as the nonprofit organization CARE. In May 2007, Sarah traveled to Guatemala, Tanzania and Zanzibar, Africa to observe firsthand CARE's work in Girls' Education. "An educated girl becomes an empowered woman who has more control over her life and well-being of her family," says Gellar.
Sarah is also an advocate for breast cancer awareness and participated in Ford's 2003 'Tied to the Cause' campaign benefiting the Susan G. Komen Breast Cancer Foundation. Gellar was an honoree at the 2003 Young Survivors Coalition. She has also donated her time and talent to the 'Make-a-Wish Foundation' and has spent time in the Dominican Republic working as a volunteer for 'Habitat for Humanity.'  Additionally, she has been involved with 'Project Angel Food' for the fight against hunger, the 'Starbright Foundation,' 'Planned Parenthood,' and the 'Los Angeles Free Clinic.'
A New York native, Gellar resides in Los Angeles.