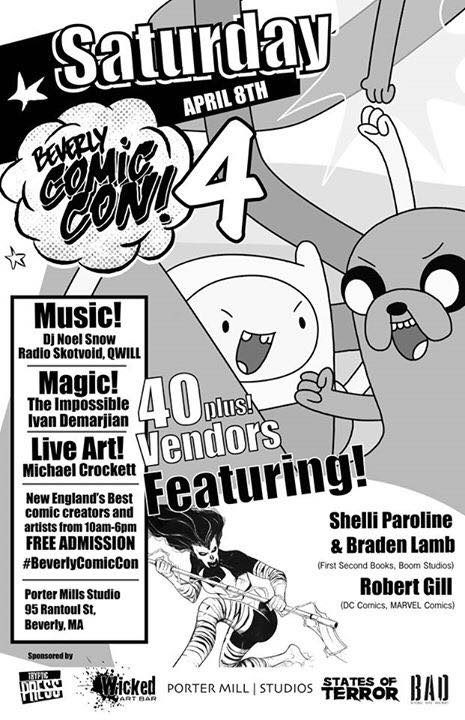 Press Release:
Join us on Saturday, April 8th for the fourth annual Beverly Comic Con hosted at Porter Mill Studios!
Free to the public, family friendly and jam packed with local comic creators and unique vendors. Original art, posters, prints, handmade collectibles, t-shirts, graphic novels and of course comic books, will all be on hand for this one of a kind event.
Free admission with plenty of parking across the street at the garage.
Doors open to the public at 10am.
Special Guests-
Robert Gill – DC Comics, Marvel Comics, Valiant Comics
Braden Lamb – Boom Studios, First Second Books
Shelli Paroline – Boom Studios, First Second Books
Live music –
DJ Noel Snow
DJ Radio Scotvoid
Qwill
Live art –
Michael Crockett
Magic Show –
The Impossible Ivan Demarjian
Artists and vendors –
Adam Miller
Andrew Houle
Anthony Sedani
Bareknuckle Burly
Chris Denmead
Crystal Naylor
Dana Robinson
Daniel Kern
Dave Ferreira
David J. Leblanc
Desmond Reed
Dirk Tiede
Don Mathias
Eric Boeker
Finar Comics
Flying Saucer Pizza Company
Greg Moutafis
House of Roulx
Jason Casey
Joe Haley & TJ Dort
Josh Morrissette
Mary Curtin
Montserrat College of Art
Paper Asylum Comics and Collectibles
Renee Mallett
Robbie Short
Ryan Santos
Ryan Valentine
Ryn Grant
Scarlett Shiloh
Standup Comix
Tom Torrey
Whalom Painting & Woodcraft
Studios at Porter Mill
95 Rantoul Street, Beverly, MA 01915