Press Release:
Gosh Comics marks Image Comics' 25th anniversary with a number of creator signings throughout the afternoon of Saturday the 18th March, so come on down! Big thanks to all the great folks at Image Comics for giving us the opportunity to help celebrate their 25th Anniversary with this and our terrific Friday night talk. Happy birthday, and here's to many, many more!
Comic Creators Jordie Bellaire, Simon Gane, Emi Lenox, John McCrea, Tradd Moore, Sean Phillips, Alison Sampson, Declan Shalvey, Si Spurrier, Eric Stephenson, Christian Ward, Caspar Wijngaard & Dan Watters will appear to meet fans and sign comics.
These talented folks will be signing together in small groups through the afternoon, with the roster as follows: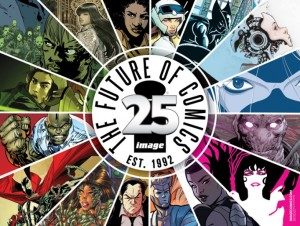 1pm – 2pm
John McCrea
Sean Phillips
Allison Sampson
2pm – 3pm
Simon Gane
Emi Lenox
Eric Stephenson
3pm – 4pm
Jordie Bellaire
Declan Shalvey
Si Spurrier
4pm – 5pm
Tradd Moore
Christian Ward
Caspar Wijngaard
Dan Watters
There will be a limit of 6 items per customer per signing session, excluding anything you buy in store on the day. So if there are 3 creators signing, you could bring 2 items for each creator, or 3 each for two of them, or 6 for one of them, plus anything you buy in store on the day.
ABOUT THE CREATORS
Based in Ireland, Jordie Bellaire is an Eisner award winning colourist for her contributions to such titles as The Manhattan Projects, Nowhere Men, Pretty Deadly, Zero, The Massive, Tom Strong, X-Files Season 10, Captain Marvel, Journey into Mystery, and Numbercruncher, among numerous other books.
Simon Gane lives and works in Bristol, UK. Previous projects include Dark Rain: A New Orleans Story and Northlanders for DC/Vertigo, Paris for SLG Publishing and Godzilla: History's Greatest Monster for IDW. Simon is currently working on Image title They're Not Like Us with writer Eric Stephenson.
Emi Lenox is based out of Portland, Oregon, and is a comic creator widely known for Emitown, a web-based diary comic that was later published by Image as two printed volumes, and her excellent collaboration with Jeff Lemire, Plutona.
John McCrea is an Irish comics creator currently collaborating with Phil Hester on the supernatural science series Mythic. His past work includes such titles as Troubled Souls, Hitman, and many, many more.
Tradd Moore burst on the scene with his eye-popping (sometimes quite literally) visuals on The Strange Talent of Luther Strode (with writer Justin Jordan). He was quickly snapped up by Marvel for their Ghost Rider relaunch, as well as ongoing cover work on top titles. As well as working on Ales Kot's Image series Zero, he collaborated with Jordan again to complete the Luther Strode trilogy with The Legend and The Legacy.
Drawing comics professionally since the age of fifteen, Sean Phillips has in recent years concentrated on creator-owned books including Criminal, Incognito, Seven Psychopaths, Fatale & The Fade Out. He's currently drawing Kill or be Killed, written by his frequent collaborator Ed Brubaker.
Alison Sampson brings her architectural background to her art, creating living, breathing worlds that her characters inhabit. Her work can be found in Nathan Edmonson collaboration Genesis, and the upcoming Winnebago Graveyard with writer Steve Niles.
Declan Shalvey is an award-winning cartoonist based in Ireland, known for his many collaborations with creators like Warren Ellis and Jordie Bellaire.
Si Spurrier writes novels and comics, with his recent work in the sequential sphere including Cry Havoc, Doctor Who, and Eisner award nominated science-fantasy series, The Spire. His latest prose novels are Contract and A Serpent Uncoiled, while his first digital-only project is the "absurdist-noir" novella Unusual Concentrations.
As Publisher for Image Comics, Eric Stephenson has helped foster the creator-owned projects of numerous bestselling writers and artists, including Robert Kirkman, Ed Brubaker, Matt Fraction, Jonathan Hickman, Kieron Gillen, Jamie McKelvie, Kelly Sue DeConnick, and Brandon Graham, as well as a well-known pair of award magnets whose names rhyme with Frian and Biona. He is also the Eisner-nominated writer and co-creator of Nowhere Men and They're Not Like US.
After 10 years of encouraging London teenagers to draw anything other than comics, Christian Ward is now a full-time comic book artist, illustrator and writer. Alongside being an artist at Marvel (Iron Man, New Avengers, The Ultimates, Agents of S.H.I.E.L.D.), he is also the co-creator of ODY-C with Matt Fraction for Image Comics.
Dan Watters is a London-based writer whose first creator owned graphic novel Limbo, created with Caspar Wijngaard, was released in 2016 through Image Comics. He is currently working on Assassin's Creed and Dark Souls: Legends of the Flame, both for Titan Comics.
Caspar Wijngaard's work has been published by Image Comics, BOOM! and Titan. His most recent work includes the Image series Limbo which he drew, coloured and co-created with writer Dan Watters, and Assassin's Creed and Dark Souls comics for Titan.
Be sure to come along and help us celebrate with this heapin' helpin' of Image talent! If you can't make it on the day but would like to arrange a reservation or mail order, drop us an email to info@goshlondon.com. Keep an eye on the Facebook event for any updates.
And to help celebrate all the Image goings-on, we'll be doing 10% off of all Image Comics TPs on the day! It's the perfect chance to try out that new series you've had your eye on…
Gosh Comics
1 Berwick St, SoHo, London W1F0DR
United Kingdom