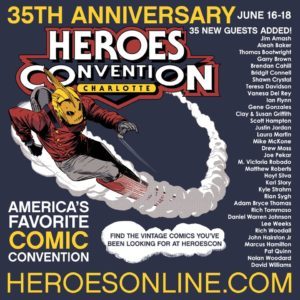 HeroesCon has announced more new guests for their 35th anniversary show including Lee Weeks, Vanesa Del Rey, Justin Jordan, Laura Martin, Mike McKone, and more! HeroesCon 2017 takes place June 16-18, 2017 at the Charlotte Convention Center.
JIM AMASH | Alter Ego magazine, Jughead, Sonic Universe, Archie and Friends
ALEAH BAKER | Sonic Universe, Mega Man
THOMAS BOATWRIGHT | Zeke Deadwood, The Halloween Legion, Cemetery Blues
GARRY BROWN | Black Road, Daredevil, Catwoman, Batman, The Massive, Iron Patriot
BRENDAN CAHILL | Sable & Fortune, Transformers
BRIDGIT CONNELL | Brother Nash
SHAWN CRYSTAL | Mother Panic, Arkham Manor, Scarlet Witch
TERESA R DAVIDSON | Sonic the Hedgehog, Archie
VANESA DEL REY | Scarlet Witch, Spider-Women Alpha, Hit 1957
IAN FLYNN | Sonic the Hedgehog, Mega Man, Teenage Mutant Ninja Turtles
GENE GONZALES | DC Comics Licensing Artist, Iron Man 2 Cards, Diary of Night
CLAY & SUSAN GRIFFITH | The Flash: The Haunting of Barry Allen, Arrow: A Generation of Vipers
JOHN HAIRSTON JR. | 1962: The Age of Marvels
MARCUS HAMILTON | FRIDAY & SATURDAY ONLY Dennis the Menace
SCOTT HAMPTON | American Gods, Hellboy: Sleeping and the Dead, Batman, Sandman
DANIEL WARREN JOHNSON | Extremity, The Ghost Fleet, Space-Mullet, Quake
JUSTIN JORDAN | Luther Strode, Spread, The Family Trade, Planet of the Apes/Green Lantern
LAURA MARTIN | Black Panther, A-Force, Ragnarök
MIKE MCKONE | Justice League United, Avengers: Endless Wartime
DREW MOSS | Copperhead, Terrible Lizard, The Colonized, The Crow: Pestilence, In the Dark
JOE PEKAR | Grimm Fairy Tales, Brandi Bare, Spider-Man: Shattered Dimensions
PAT QUINN | The Phantom, GI Joe: Declassified, Necrotic
M VICTORIA ROBADO | Fragile, Jem & the Holograms, Barbie
MATTHEW ROBERTS |Manifest Destiny, Battle Pope: Mayhem
HOYT SILVA | Adventures in Crime, Operation: Nemesis, Quatermain: Ghosts of the Nzadi
KARL STORY | Thors, Ocean, Tom Strong, Terra Obscura, Nightwing
KYLE STRAHM | Spread, Haunt, Hack/Slash
RIAN SYGH | The Backstagers, Steven Universe, Adventure Time
ADAM BRYCE THOMAS | Sonic Universe
RICH TOMMASO | She Wolf, Dark Corridor, The Horror Of Collier County, Clover Honey
LEE WEEKS | Superman, Daredevil, Incredible Hulk, Spider-Man
DAVID ANTOINE WILLIAMS | X-Men: First Class, GI Joe, Incredible Hercules, Hulk & Power Pack
RICH WOODALL | Kyrra, Johnny Raygun
NOLAN WOODARD | Uncanny X-Men, Future Imperfect

RSVP on the Facebook event page!
For the most up-to-date information, check our blog, or sign up for the weekly Heroes Hotline newsletter. You can also follow us on Twitter and Facebook!
BUYING AN ADVANCE PASS MEANS YOU'LL GET ANY ADVANCE INCENTIVES WE OFFER, FREE!
ENTRY WILL BE $25: FRI $25: SAT $20: SUN / AT THE SHOW ITSELF, SO YOU SAVE AS MUCH AS $20 BY PURCHASING ADVANCE PASSES TODAY! TICKETS ARE NOT REFUNDABLE, UNDER CERTAIN CIRCUMSTANCES WE MAY CREDIT AN UNUSABLE TICKET TOWARD FUTURE TICKET PURCHASES.
HEROES CONVENTION was founded in 1982 by Shelton Drum, owner of Charlotte's Heroes Aren't Hard To Find comics shop. Since then the convention has become famous for its comics-first and family-friendly atmosphere, where fans can mingle directly with professionals and exhibitors. Boasting an incredible guest list built mainly on reputation and goodwill, HeroesCon is known nationwide as a "must" on the summer schedule, drawing fans, exhibitors, and creators from all over the world to the Charlotte Convention Center.