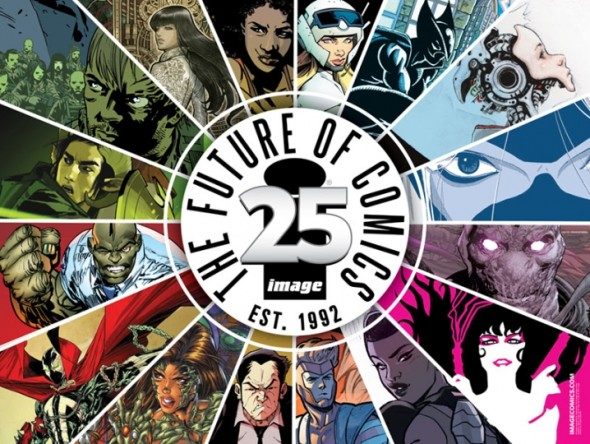 Jordie Bellaire, Warren Ellis, Kieron Gillen, Jamie McKelvie, Declan Shalvey, and Image Comics Publisher Eric Stephenson appear at Gosh! Comics from 7.30-9pm on Friday the 17th March.
PLEASE NOTE: This is not a signing event. There will not be a signing session before or after the talk. Jordie & Declan will be part of a signing event occurring on Saturday the 18th March.
ABOUT THE CREATORS
Jordie Bellaire is probably the most lauded (and certainly most prolific) colourist working today. You'd be lucky to find a week without one of her books shipping, and even luckier to experience her mastery of palette. Always pushing the boundaries of colour as an integral part of storytelling, her versatility is astounding. Equally impressive has been her outspoken advocacy for inclusiveness in the industry, including initiating the "Comics are for everybody" movement.
Warren Ellis hardly needs an introduction, a man who has repeatedly kicked the stool out from under a complacent industry to bring it standing to attention. He has a masterful hand for reinvention, a keen futurists eye, and an authorial voice that can bring laughter, tears, excitement and horror all with deceptive ease. His current Image titles, Injection and Trees, rank among the best comics work he's done.
Kieron Gillen is one of the brightest stars in the British comics firmament. Gaining prominence for his work on Phonogram, he has gone from strength to strength through his subsequent work on titles such as Young Avengers (where one could argue he and creative partner Jamie McKelvie set the tone for the increased progressiveness and inclusiveness in the Marvel universe that was to follow), Journey Into Mystery, Uncanny X-Men, Generation Hope, Darth Vader and of course The Wicked + The Divine.
Jamie McKelvie, often in partnership with Kieron, has brought a slick new visual vocabulary to mainstream comics, bringing in influences from the worlds of music and fashion. As well as outstanding artistic stints on Phonogram, Suburban Glamour, Young Avengers and The Wicked + The Divine, Jamie has been a key designer for Marvel, including two of its most iconic modern costume designs: Captain Marvel and Ms Marvel (now, as an icon of the Resist movement, a cultural phenomenon in her own right).
Declan Shalvey brings a weighty, graphic eye to his art, wowing everyone with his striking work on Warren Ellis' superb Moon Knight run. Starting out in the world of self-publishing, he first caught our eye in the pages of Thunderbolts and has since become a draw in his own right. As well as ongoing work on Ellis' Injection, he has recently popped up in the pages of All Star Batman, and his covers have been gracing Becky Cloonan's current Punisher run.
Eric Stephenson has been with Image since its earliest days. Working as Extreme Studios' editor, he also wrote and co-wrote a number of those early Extreme titles. Continuing to work on in a publishing capacity, he was a key member of the Image team for both Jim Valentino and Erik Larsen's respective runs as Publisher, before taking the position himself in 2008. Under his directorship, Image has found a new place within the market, positioning itself as the premiere publisher for creator owned work and changing the face of graphic novel sales throughout all channels with titles such as The Walking Dead and Saga. A passionate believer in positive change for the comics business, his annual Image Expo addresses are a must for industry-watchers. He's also returned to writing, with Nowhere Men and They're Not Like Us both proving that he's still more than capable of considerable creative output alongside his publishing duties.
Gosh Comics
1 Berwick St, SoHo, London W1F0DR
United Kingdom