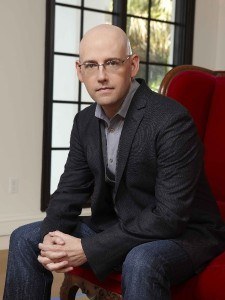 Author Brad Meltzer appears at the Jewish Federation of Fort Wayne on Monday, March 6, 2017 at 7:30 PM for "A Night of History and Writing." This event is open to public.
Brad Meltzer is the New York Times bestselling author of The Inner Circle, The Book of Fate, and seven other bestselling thrillers including The Tenth Justice, Dead Even, The First Counsel, The Millionaires, The Zero Game, The Book of Lies, and The Fifth Assassin,The President's Shadow and more.
In addition to his fiction, Brad is one of the only authors to ever have books on the bestseller list for Non-Fiction (History Decoded), Advice (Heroes for My Son and Heroes for My Daughter), Children's Books (I Am Amelia Earhart, I Am Abraham Lincoln, I Am Albert Einstein, and I Am Rosa Parks) and even comic books (Justice League of America, Green Arrow, Identity Crisis), for which he won the prestigious Eisner Award.
He is also the host of Brad Meltzer's Lost History on H2 and Brad Meltzer's Decoded on the History Channel. The Hollywood Reporter recently put him on their list of Hollywood's 25 Most Powerful Authors.
His other non-fiction books, Heroes for My Son and Heroes for My Daughter, are collections of heroes – from Jim Henson to Sally Ride — that he's been working on since the day his kids were born. His most recent work of nonfiction is History Decoded: The 10 Greatest Conspiracies of All Time.
Jewish Federation of Fort Wayne
5200 Old Mill Rd, Fort Wayne, IN 46807
(260) 456-0400