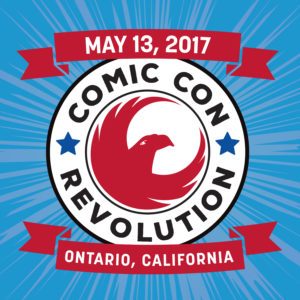 Convention Name
Comic Con Revolution
Convention Website Address
http://comicconrevolution.com/
This convention will take place:
Date (Format mm/dd/yyyy)
05/13/2017
About This Convention
Comic Con Revolution was founded on very simple principles. We are excited to celebrate comics and the creative arts. At the absolute core of what we do are the creators themselves. The people who create the comics, games, toys, film, movies and more that we all love. Without their tireless dedication to creating the fantastic worlds we all get lost in events like Comic Con Revolution would not be possible.
Venue Name and Address
Ontario Convention Center
2000 E Convention Center Way
Ontario, CA 91764
United States
Map It
Please select the Category that best describes the convention
Comic Books
Additional Categories

Science Fiction and Fantasy
Collectibles

Guests
Guests currently scheduled to appear include screenwriter Doug Jung (Star Trek Beyond, God Particle, Scalped), Whilce Portacio (Comic Legend), Beth Sotelo (Grump), Paolo Rivera (Hellboy and the B.P.R.D.: 1953), Cat Staggs (Wonder Woman), Hope Larson (Batgirl), Tim Bradstreet (Marvel Comics Covers), Mike Kunkel (Herobear), Cosplayer & Gamer Raychul Moore, Todd Nauck (Spider-Man), Travis Hanson (The Bean), Ray-Anthony Height (

Midnight

Tiger), Scott Lobdell (Red Hood & the Outlaws), Patrick Scullin (Super Siblings), Scott Koblish (Deadpool), Livio Ramondelli (Transformers), Producer Sandy King Carpenter (Ghosts of Mars, Vampires), Actor Tommy Walker (Netflix's Daredevil), Dave Wagner (Dot Problems) Joshua Hale Fialkov (The Life After), Joel Gomez (La Muerta), and Mike Collins (ABC's of Halloween).