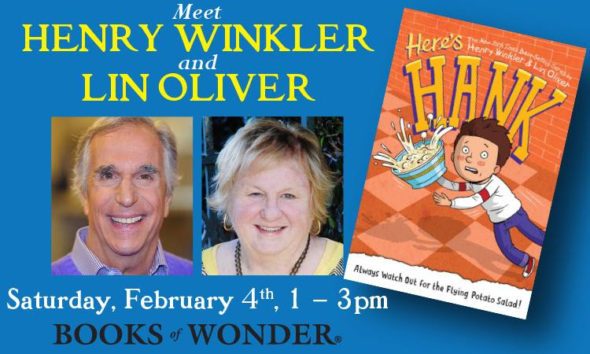 Actor and best-selling author HENRY WINKLER and best-selling author LIN OLIVER in their only New York City appearance for their newest book, as they present the 9th book in the Here's Hank series, answer questions from the audience, and sign all your copies of their many bestselling titles on Saturday, February 4th, from 1:00 – 3:00 PM.
HENRY WINKLER is an actor, producer, and director, and he speaks publicly all over the world. In addition, he has a star on Hollywood Boulevard, was presented with the Order of the British Empire by the Queen of England, and the jacket he wore as the Fonz hangs in the Smithsonian Museum in Washington, DC. But if you ask him what he is proudest of, he would say, "Writing the Hank Zipzer books with my partner, Lin Oliver." He lives in Los Angeles with his wife, Stacey. They have three children named Jed, Zoe, and Max.
LIN OLIVER is a writer and producer of movies, books, and television series for children and families. She has written more than twenty-five novels for children, and one hundred episodes of television. She is cofounder and executive director of the Society of Children's Book Writers and Illustrators, an international organization of twenty thousand authors and illustrators of children's books.
Books of Wonder
18 West 18th Street, New York, NY 10011
(212) 989-3270