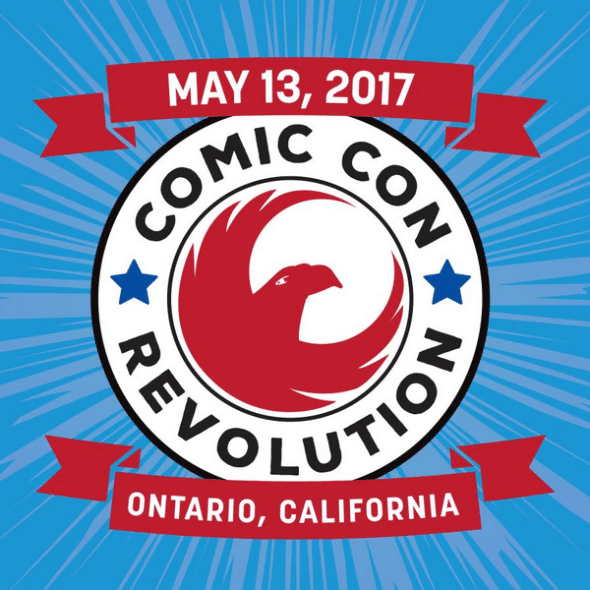 ATOMIC CRUSH EVENTS ANNOUNCES COMIC CON REVOLUTION
The 1 Day Inaugural Event To Take Place At The Ontario Convention Center in Ontario California Saturday May 13, 2017
Comic Con Revolution Will Feature A Full Day of Programming and Cosplay Contest In Addition To Top Comic Talent
Screenwriter Doug Jung (Star Trek Beyond, God Particle, Scalped), Whilce Portacio (Comic Legend), Paolo Rivera (Hellboy and the B.P.R.D.: 1953), Cat Staggs (Wonder Woman), Hope Larson (Batgirl), Tim Bradstreet (Marvel Covers), Todd Nauck (Spider-Man), Cosplayer and Gamer Raychul Moore and Many More
New York, NY – February 1, 2017  | Atomic Crush Events (ACE) is pleased to announce Comic Con Revolution (CCR).  The Inaugural 1-day event at the Ontario Convention Center in Ontario California will be held on Saturday, May 13, 2017.  CCR will feature a full day of programming, Cosplay Contest, exhibitors, vendors and a full guest list of top industry talent.
Guests currently scheduled to appear include screenwriter Doug Jung (Star Trek Beyond, God Particle, Scalped), Whilce Portacio (Comic Legend), Beth Sotelo (Grump), Paolo Rivera (Hellboy and the B.P.R.D.: 1953), Cat Staggs (Wonder Woman), Hope Larson (Batgirl), Tim Bradstreet (Marvel Covers), Mike Kunkel (Herobear), Cosplayer & Gamer Raychul Moore, Todd Nauck (Spider-Man), Travis Hanson (The Bean), Ray-Anthony Height (Midnight Tiger), Scott Lobdell (Redhood and the Outlaws),  Patrick Scullin (Super Siblings), Scott Koblish (Deadpool), Livio Romandelli (Transformers), Producer Sandy King Carpenter (Ghosts of Mars, Vampires), Actor Tommy Walker (Netflix's Daredevil), Dave Wagner (Dot Problems), Joshua Hale Fialkov (The Life After), Joel Gomez (Ma Muerta) and Mike Collins (ABC's of Halloween).  Additional announcements will be made as guests continue to confirm and support the show.
"The team at Atomic Crush Events have a combined 60 plus of years of industry experience and have produced or attended more conventions then we can count," said ACE co-founder Mike Scigliano.  He added, "We are using all this experience and knowledge to put together the strongest event we can.  We're building this show as both a love letter to the comic creators we admire and the fans who enjoy their work."
Information about Comic Con Revolution is available at www.comicconrevolution.com
www.facebook.com/ComicConRevolution/
www.twitter.com/ComicConRvltn
www.instagram.com/comicconrevolution
About Comic Con Revolution
Comic Con Revolution was founded on very simple principles.  We are excited to celebrate comics and the creative arts.  At the absolute core of what we do are the creators themselves.  The people who create the comics, games, toys, film, movies and more that we all love.  Without their tireless dedication to creating the fantastic worlds we all get lost in, events like Comic Con Revolution would not be possible.  We strive to create the best possible experience for attendees, exhibitors and guests alike.  Our team of event industry veterans are dedicated to working hard to create that experience for each of you.
About Atomic Crush Events
Atomic Crush Events is an event consultation and management company that was founded on experience and innovation.  Bringing together expertise in event management, marketing, sales and business development to create a unique team that can analyze and identify the best course of action when developing a live event.  Our philosophy is simple – create the best experience possible for attendees, exhibitors and guests alike.
More information is available at www.atomiccrushevents.com
www.facebook.com/AtomicCrushEvents/
www.twitter.com/AtomicCrushEvnt
www.instagram.com/atomiccrushevents/