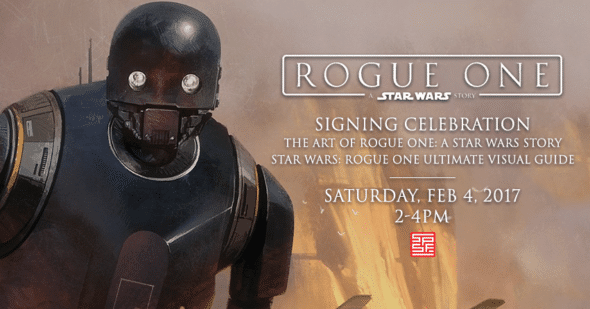 Press Release:
Join Sketchpad Gallery for a Star Wars Rogue One signing celebration on Saturday, February 4, 2017 at 2:00 PM!
Come see art from The Art of Rogue One: A Star Wars Story, and Star Wars: Rogue One: The Ultimate Visual Guide, and get the books signed by the author and artists!
Joining us to meet fans and sign books will be Lucasfilm's resident Star Wars authority and author Pablo Hidalgo, and some of the amazing artists who have contributed to the Star Wars universe — Christian Alzmann, Aaron McBride, Karla Ortiz, Kemp Remillard, Tyler Scarlet, and Erik Tiemens.
We will have both books available to purchase, and on hand to sign them will be:
The Art of Rogue One: A Star Wars Story
Concept Artist Christian Alzmann
Concept Artist Erik Tiemens
Concept Artist Tyler Scarlet
Concept Artist Karla Ortiz
Concept Artist Aaron McBride
Star Wars: Rogue One: The Ultimate Visual Guide
Author Pablo Hidalgo
Artist Kemp Remillard
Sketchpad Gallery
66 6th Street, San Francisco, California 94103
(415) 756-8522