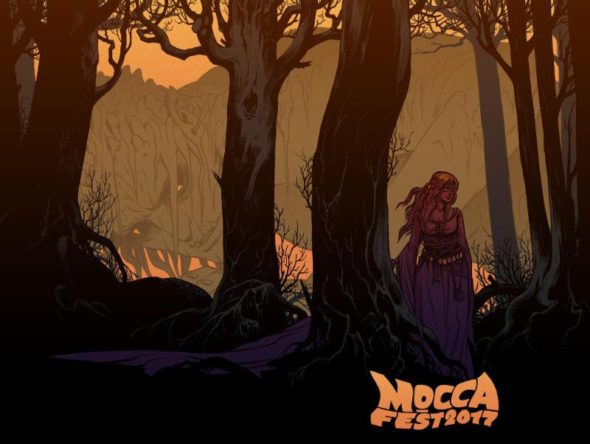 Press Release: 
The Society of Illustrators is honored to have cartoonist and illustrator Becky Cloonan as this year's artist for the fifteenth annual MoCCA Arts Festival.
This beautiful image will appear on signage and merchandise at the MoCCA Arts Festival, to be held on April 1st and 2nd, 2017 at the spacious and modern Metropolitan West located at 639 West 46th Street in Manhattan.
At only 36, New York's School of Visual Arts alum Becky Cloonan has already paved the way for women in comics. Her breakout hit Demo (2004), a collaboration with Brian Wood, received numerous accolades and recognitions. Her first solo project, East Coast Rising, released by Tokyopop in 2006, earned her a third Eisner nomination for Best New Series. In 2012 she became the first woman to draw a main Batman title. Following Batman, she did the art for the True Lives of the Fabulous Killjoys and later created cover art and stories for Gotham Academy for DC Comics. Currently she writes The Punisher for Marvel Comics.
About the Society of Illustrators
Founded in 1901, the Society of Illustrators and its Museum of Illustration together comprise the oldest nonprofit organization dedicated to the art of illustration in America. The mission of SI/MI is to promote the art and appreciation of illustration and its history and evolving nature through exhibitions and educational programs.
The MoCCA Arts Festival is a 2-day multimedia event, Manhattan's largest independent comics, cartoon and animation festival, drawing over 7,000 attendees each year. With 400 exhibiting artists displaying their work, award-winning honorees speaking about their careers and artistic processes and other featured artists conducting workshops, lectures and film screenings, our Festival mission accelerates the advancement of the Society's broader mission to serve as Manhattan's singular cultural institution promoting all genres of illustration through exhibitions, programs and art education. The MoCCA Arts Festival will take place April 1 – 2nd from 11:00AM – 6:00PM at Metropolitan West located on West 46th Street between 10th and 11th Avenue. Programming featuring panels by top artists and speakers focusing on current issues and trends will take place at Ink48 (653 11th Ave), a boutique hotel located on the corner of 10th Avenue and West 48th Street.